As David Blatt fought off questions about his use of 7-foot-1 center Timofey Mozgov, Steve Kerr put it succinctly:
"It's not a series for bigs."
The Warriors and Cavaliers have combined to give players 6-foot-9 and taller just 12% of the minutes in the 2015 NBA Finals. That's the lowest mark in the last 44 Finals and second-lowest for years Basketball-Reference.com has minutes data for the Finals (1955, 1957-2015):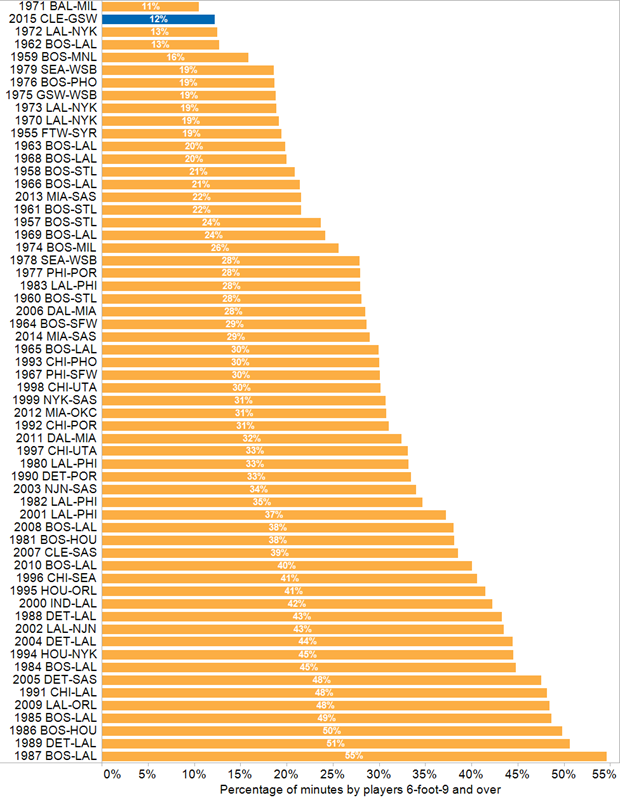 And it's not just one team dragging down the average.
This is the first NBA Finals in the sample where both teams are under 19%. The Cavaliers are at 11% and the Warriors 13%:

Game 5 took small ball to another level.
Mozgov played just nine minutes for the Cavaliers. Kendrick Perkins (6-foot-10) and Brendan Haywood (7-foot) didn't get off the bench, and of course, neither did the injured Kevin Love (6-foot-10) and Anderson Varejao (6-foot-10).
The Warriors didn't go big much more often. David Lee (6-foot-9) played nine minutes as a reserve, and Festus Ezeli (6-foot-11) got three. After starting every playoff game and nearly all his regular-season games to this point, Andrew Bogut (7-foot) didn't play at all. James Michael McAdoo (6-foot-9) and Ognjen Kuzmic (7-foot) got their usual DNPs.
Single-game minutes data in the Finals goes back to only 1982 (though Game 1 in 1984 is missing). But that's still a 34-year span.
In Game 5, Cleveland and Golden State posted the No. 1 and No. 2 lowest percentage of minutes given to players 6-foot-9 and taller. In fact, the 2015 Finals has produced the seven lowest scores in the sample:

Going small is a weapon Golden State and Cleveland have deployed this season. They're both comfortable playing this way.
The Warriors kicked up a notch by starting Game 4 small, and the Cavaliers responded in Game 5 by going small more often. It resulted in a loss, but Blatt sounds as if he might stick with the strategy.
Will anything stop this arms race toward tininess?