Draymond Green brought up the above play – his quick inbound pass to set up an Andre Iguodala dunk – after the Warriors beat the Cavaliers in Game 4 of the NBA Finals on Thursday.
"That's the type of thing that we need," Green said. "We needed to put them on their heels. This entire series, it's been them as the enforcers, them as the aggressors and us on our heels. We needed to reverse that."
"That's something we've been missing throughout this entire series, is it has not been at our pace."
No, the series has not.
But neither was Game 4
Not at least by the technical definition of pace: possessions per 48 minutes. In fact, using NBA.com's pace estimates, Game 4 was slower than Golden State's Game 2 and Game 3 losses.
Here's the pace of each Finals game. The horizontal black lines represent the NBA's fastest-paced (notably the Warriors) and slowest-paced teams during the regular season.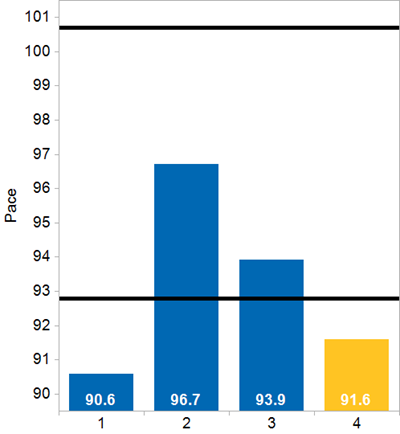 And it wasn't as if Golden State was up and down with pacing, scoring on plenty of short possessions and going long on other possessions. That can be a way for a team that plays slowly overall to still generate many transition baskets.
The Warriors scored just 11 fastbreak points in Game 4, well below their regular-season-leading 20.9 per game and their third-lowest output of the playoffs:
So why did the Warriors look faster when they actually played slower than the NBA's slowest team?
Start with passing.
Passing isn't always the answer. Stephen Curry isolated Matthew Dellavedova to much success, and Golden State definitely overpassed earlier in the series.
But the Warriors passed with purpose in Game 4.
For the first time all series, they had more uncontested shots (yellow) than contested shots (blue)
Good passes leading to open shots meant 24 assists – including six each by Curry and Green. That's a series high for assists per 48 minutes (which levels the overtime games):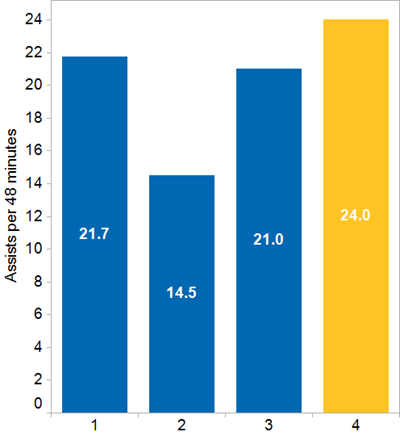 Crisp passing stretched Cleveland's defense and led to open shots, which turned into made shots. Unsurprisingly, the Warriors posted their best offensive rating of the Finals.
Again, the horizontal black lines represent the highest- and lowest-scoring teams per possession during the regular season:
The Cavaliers have fought to slow the pace in this series, and in many ways, they succeeded in Game 4.
But the Warriors revealed something more important, an ability to duplicate aspects of their preferred up-tempo attack in the halfcourt. The whole idea of playing fast is to generate good, open shots. Passing can accomplish the same thing.
Golden State just negated Cleveland's biggest strength so far in the Finals – dictating pace. That should be a scary thought for the Cavs and a comforting one for the Warriors.