When Kyrie Irving went down with a knee injury in overtime of the Cavaliers' Game 1 loss to the Warriors, he seemed to immediately know it was more serious than those he had suffered earlier in the postseason.
Irving missed time during the Eastern Conference Finals, and went to seek a second opinion on the knee issues he was dealing with. Ultimately, it was labeled as tendonitis, though Irving remained skeptical that it wasn't a bit more serious.
As Irving left the floor this time, he was seen throwing his jersey in anger once he entered the tunnel to the locker room. And he admitted to being worried afterward, which, as it turns out, was unfortunately justified.
Now that Irving is done for this postseason, he must mentally shift to focusing on his recovery. He took the first step in that process by posting a message to fans on Instagram, and appeared to be keeping a positive outlook, at least on the surface.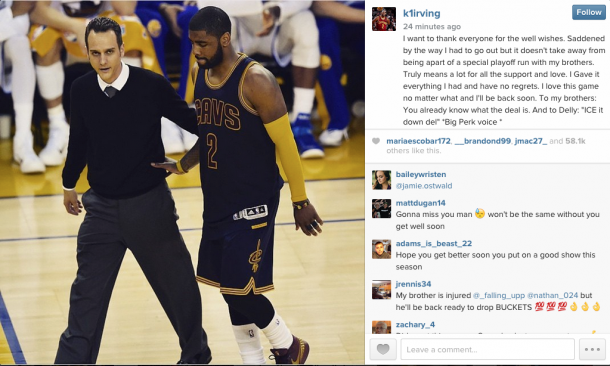 "I want to thank everyone for the well wishes," Irving wrote. "Saddened by the way I had to go out but it doesn't take away from being apart of a special playoff run with my brothers. Truly means a lot for all the support and love. I Gave it everything I had and have no regrets. I love this game no matter what and I'll be back soon. To my brothers: You already know what the deal is. And to Delly: "ICE it down del" *Big Perk voice *"