With five minutes left in a tied NBA Finals game and nobody fouled out, there was a surprise player on the floor to begin overtime Thursday:
Festus Ezeli.
Warriors coach Steve Kerr said he started the center in overtime to maximize Golden State's chances of winning the jump ball.
Winning the opening tip is probably overrated. It might help to begin the fourth quarter with the ball (which the opening-tip winner does), but no matter who secures possession first, both teams will begin two quarters with the ball. The opening-tip loser gets the ball to start the second and third quarters.
But it matters in overtime, when the jump-ball loser doesn't automatically get the ball later.
So the 6-foot-11 Ezeli went out – and lost the tip to Timofey Mozgov.
Kerr planned to remove Ezeli as quickly as possible, but the Warriors and Cavaliers played six possessions – three on each side of the court – before a stoppage.
Ezeli wasn't involved offensively, but he played sound defense and grabbed a couple key defensive rebounds. Cleveland missed three shots on its three overtime possessions against Ezeli.
Ezeli's board work came against the dangerous Mozgov-Tristan Thompson combo. With those two in during regulation, the Cavaliers grabbed 9-of-21 potential offensive rebounds – a monstrous 44 offensive-rebounding percentage. They were 0-for-3 against Ezeli in overtime.
His positional defense might have been even better.
The Warriors shaded their bigs toward LeBron while also expecting them to recover and defend their man. Ezeli was particularly lively threatening to block driving lanes and bouncing back close to Mozgov.
This probably explains why.
Here's how many minutes each overtime starter played entering the extra period: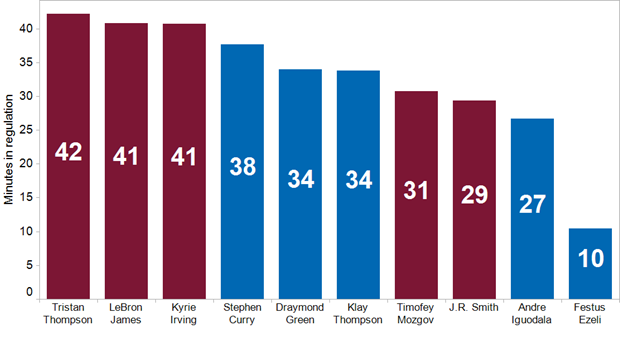 Ezeli looked fresher than everyone else because he was fresher than everyone else.
This was an important stretch – holding the Cavaliers scoreless and stripping them of their offensive rhythm.
Kerr said he and his assistant coaches even debated leaving Ezeli in, but they pulled him for Harrison Barnes at the first stoppage.