LeBron James couldn't get all the way to the rim. He attempted just one shot (a late layup conceded by the Warriors) within two feet.
He couldn't score efficiently enough. He finished with 44 points, but needed 38 shots to get them.
He couldn't find open teammates. He had just six assists in 46 minutes – well below his rate of 9.4 per 46 minutes in the regular season and in the playoffs entering Thursday.
Eventually and predictably, the Cavaliers offense faltered in their Game 1 loss.
So why did the Cavaliers keep isolating LeBron?
It was their best defense against Golden State's dangerous fastbreak attack.
Cleveland threw just 248 passes in Game 1, per NBA.com. That's fewer passes than any team has averaged per game in the regular season or playoffs – and that's with an overtime period providing additional opportunities Thursday.
Here's how the Cavaliers' passes in the regular season (blue), postseason (wine) and Game 1 (gold) compare to other teams' regular-season and postseason averages: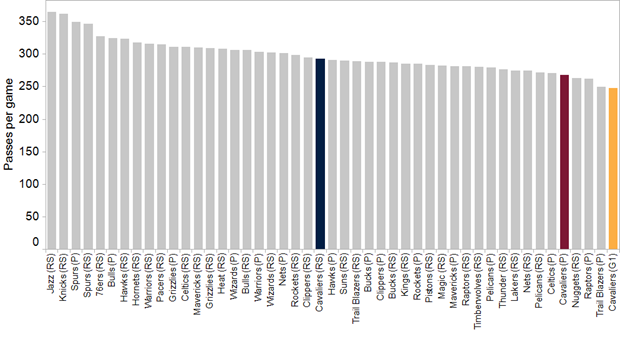 The Cavaliers were slightly below average during the regular season in passes per game.They've cut down as LeBron has isolated more in the playoffs. Game 1 of the Finals featured even fewer passes.
And, in many ways, the plan worked as intended.
LeBron, as mentioned, scored 44 points.
The Cavaliers committed just nine turnovers in regulation, which would have tied for their second-fewest of the postseason. Keep in mind, the Warriors are one of the NBA's better teams at forcing turnovers.
Golden State also led the league in fastbreak points per game during the regular season, 20.9. But with Cleveland slowing the pace and protecting the ball, the Warriors scored just 14 fastbreak points, their second fewest of the playoffs (despite having five extra minutes).
The Cavaliers' offense just stalled a bit too much.
So, it's back to the drawing board for David Blatt. Do they pass more to try creating more efficient shots, but leaving themselves more vulnerable to Golden State fastbreaks? Do they stick with this plan and hope LeBron can score a bit more efficiently?
This is the problem with facing the versatile Warriors. It's hard to accomplish one thing, let alone do it while not creating another problem.