In each three of their playoff series so far, the Cavaliers allowed more points from a point guard than anyone else. Isaiah Thomas, Derrick Rose and Jeff Teague have all bested their season scoring averages against Cleveland.
Now, the Cavaliers face the NBA's best point guard and reigning MVP – Stephen Curry – in the NBA Finals.
How will they slow him down?
"The same way you slow me down," LeBron James said. "You can't."
At least Warriors have several defenders to throw at LeBron – Harrison Barnes, Draymond Green, Andre Iguodala. Cleveland's roster isn't nearly as well-suited to contain Curry.
Kyrie Irving said he'd start games on Curry. That's no easy task for healthy Irving, but Curry can absolutely exploit a hobbled Irving with screen after screen on and off the ball.
Iman Shumpert is the Cavaliers' best bet on Curry – for both his on-ball perimeter defense and ability to switch on pick-and-rolls. His length can prevent Curry the sliver of space he needs to shoot, and he's strong enough to handle bigs.
But if Shumpert is on Curry, where does Cleveland hide Irving? Klay Thompson would drag Irving all around the court off the ball, and Harrison Barnes would punish him inside. Remove Irving entirely, and the Cavaliers' offense suffers.
It's much easier to play Irving when a Golden State reserve – Andre Iguodala , Shaun Livingston or Leandro Barbosa – is in the game. But Livingston can post up Irving, Barbosa can blow by him, and Iguodala can shoot 3s over him. Irving defending a taller, but stationary, Iguodala is probably the lesser of all evils.
Matthew Dellavedova will also get his turns on Curry. Dellavedova has played good defense throughout the playoffs, but a larger sample raises concerns. Dellavedova will work hard on that end, fighting through screens and getting physical, but his limited athleticism reduces his effectiveness. Curry should eat Dellavedova alive in transition – an area of particular concern for Cleveland.
in this chess match, the Cavaliers should consider whom Curry guards on the other end. Cleveland cross-matching (relative to the defensive matchups Golden State sets) would make it easier for Curry to lose his man on fastbreaks. The Golden State point guard is a terror in transition, hunting open 3s.
Not that he's easy to stop in halfcourt, either.
Curry doesn't need much space to shoot, which makes switching on pick-and-rolls an ideal strategy – when possible. Tristan Thompson can probably handle it. Timofey Mozgov probably can't. LeBron can. Shumpert probably can. Irving probably can't. Dellavedova might.
That leaves few workable switching combinations – Shumpert-Thompson, Shumpert-LeBron, LeBron-Thompson. At least – if Thompson primarily guards Green and Shumpert primarily guards Curry – Cleveland can switch on Golden State's favored Curry-Green pick-and-roll.
When Andrew Bogut (guarded by Mozgov) sets a ball screen, the Cavaliers might favor the more conservative approach they've shown the second half the season. Curry's man will try to force him inside the arc, where Mozgov will back off and protect the paint. Curry can drain long 2s, but forcing him into that shot, is a relative win.
LeBron will also have turns in the Curry pick-and-rolls. If Cleveland tries hiding Irving on Barnes or Iguodala, that puts LeBron on Green. So do Cleveland's small lineups – at least when the Warriors don't counter with Green at center, which they very well could do.
Long story short, LeBron will be involved in Cleveland's defense of Curry. LeBron might even directly guard Curry for stretches.
The Cavaliers – especially with LeBron on him – might even try trapping to keep Curry off balance. Curry is a good enough ball-handler and passer to beat those traps, and the Warriors' other players pass well, which would keep a short-handed defense underneath scrambling.
But at least Cleveland has options for defending Curry. Maybe none of them work, but at least there are options.
In the regular season, the Cavaliers were pretty middling defending point guards. Per 82games, Cleveland was nearly average by both efficiency and volume against opposing point guards: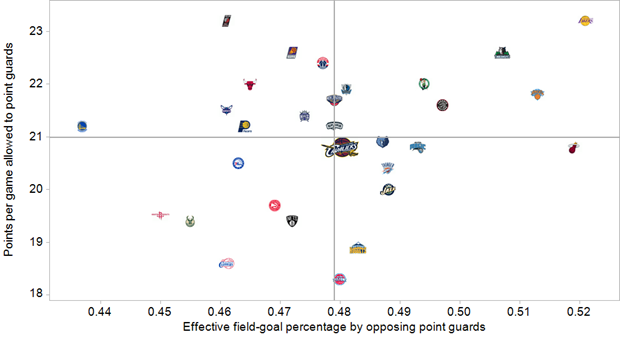 But as the playoffs have shown, Cleveland is vulnerable here.
It seemed Teague in particular should have attacked the Cavaliers more. He often found success when he did.
Curry presents a far greater challenge.
Look for the Cavaliers to keep Irving on Curry as much as possible. That might be an infinitesimal amount, but the more they can, the better.
Shumpert is the most obvious candidate to do the heavy lifting once Irving falters. LeBron would do well too, but in anything more than limited stretches, the job gets too taxing for him – especially considering his heavy offensive burden.
The Warriors will drag Mozgov into pick-and-rolls, which he can handle OK, but not as well as Thompson. That might tempt Cleveland to go small more often, which might push Golden State to play small, too. The Warriors' small lineups are dangerous, but at least they offer a place for Irving to hide on defense.
The Cavaliers plan for containing Curry will trickle down into many other decisions for both teams, but the Cavaliers' challenge starts there.
It's a big one.