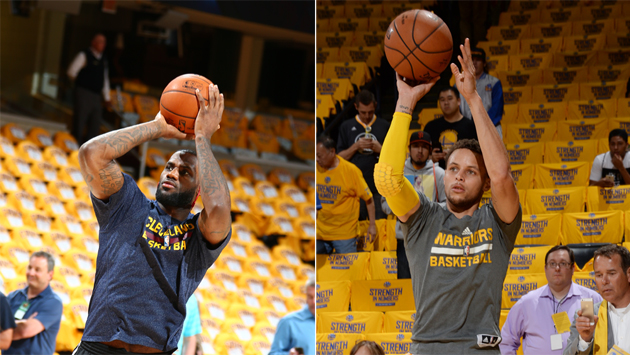 The temptation here is to paint these NBA Finals as the legendary, experienced player against the upstart underdog.
LeBron James is legendary — whatever happens in these finals and future ones, he will go down as one of the greats to play the game. He is experienced, this being his fifth consecutive Finals. He is as physically gifted a player as the NBA has ever seen, but one who also has an incredibly high basketball IQ. His stardom was pegged and followed by the time he was a high school sophomore.
Stephen Curry was an underdog — the skinny shooter couldn't get big time colleges (or even a lot of mid-majors) interested in him, so he decided to go to Davidson. He led that school to the best seasons in program history. He entered the NBA Draft as an underdog, pegged by many as just a shooter he fell to seventh before being picked up. But teams underestimated his will to get better, for example how good a ball handler he would become. He's a guy fans relate to because he wasn't given superlative physical gifts, he had to work for it — he's how many fans like to see themselves.
But that is just the surface of these two players. Just the part of the iceberg you can see.
This pairing is much, much more than that. Both players are much more than that.
Which is why they are at the heart of what makes this a compelling NBA Finals.
•
These men are more than just their simple caricatures.
If you paint LeBron as the guy pre-ordained for greatness, as the Goliath in this situation, you overlook his difficult upbringing. More than one talented young man got lost on a road far less bumpy, and with far fewer turns, than the one LeBron had growing up the son of a single mother in lower income areas of Akron.
If you paint Curry as the underdog who overcame incredible odds, you overlook that his father was an NBA player. Curry guy who grew up comfortable and around the best in the game. He had the advantage of that privilege.
LeBron certainly had advantages as he grew into an NBA player — only Wilt Chamberlain was this much more physically gifted than his peers. Curry certainly had rough times and struggles that he had to work hard to overcome. The caricatures of these men are not entirely wrong.
But they are much more than first brush stroke.
•
They also are the two most popular players in the NBA right now.
There are a lot of ways to measure the popularity of a player. There's how many All-Star Game votes he gets, for one. Or, you can judge by jersey sales because those are fans willing to plunk down the money to put a guys name on their back.
However you try to get there, you end up in the same place: LeBron James and Stephen Curry.
They were 1-2 in All-Star vote getting this season. And they are 1-2 in jersey sales.
LeBron has been at the top for a while, Curry is new to all this (but handles it in stride, like you would expect of the son of a former NBA player). They are both good in interviews and let the public have glimpses into their families and lives, humanizing them as more than just a name on your fantasy roster.
Fans love them for all of it.
•
They also are arguably the two toughest players to guard in the league — but they dominate the game in very different ways.
LeBron can beat defenders almost any way he wants, drive past bigger ones on the perimeter or back down smaller ones into the post. That (and key injuries to teammates) is why he has worked much more in isolation these playoffs. His combination of size and speed — along with a steady jumper — allow him to get his shot even when the help defender comes. However, when the defense rotates his passes will find the right open man.
Curry has smooth handles that can create just a little bit of daylight against even the best defender — and that's all he needs to get off the prettiest shot in the game. Curry is especially dangerous because he can work with the ball or be just as dangerous (and draw defenders) working off it, on cuts and screens. He rarely works in isolation, he's a much better fit in a modern offense using ball screens to create space. Plus, he also is a gifted passer who will find the open man.
•
One more thing LeBron and Curry have in common: They are seen as the saviors of long-suffering fan bases.
The last time the Golden State Warriors won an NBA title was 40 years ago, led by Rick Barry. The Warriors have had some of the loudest and most loyal fans in the league — this team went through a couple of decades of terrible ownership prior to the current group buying the team, yet the fans continued to show up. Warriors fans stuck with their team through years of rough times.
The last time any team won any title in Northeast Ohio Lyndon B. Johnson was president and was talking about the just-released Warren Report on the assassination of President Kennedy. "Dr. Strangelove" had just entered the theaters. Bob Dylan was just becoming popular as a singer/songwriter. It has been more than half a century since a title came to the greater Cleveland area — which has always been a special burden for LeBron.
•
Of course, basketball remains a team sport — and the better team will hoist the Larry O'Brien trophy in a couple weeks. It's not simply LeBron James vs. Stephen Curry, it's the ability of teammates to help defend those two. The gravity of LeBron and Curry to draw defenders opens up things for their teammates, the question is which teammates are knocking down open shots and making plays while the defenses zero in on those stars.
But it is LeBron vs. Curry that will capture the nation's imagination and attention for a couple weeks. It's those two who we know will give us some highlight plays. They are the faces of their franchises.
This will go down as the LeBron vs. Curry NBA Finals. The only question is which one will get the Finals MVP Award.