The Warriors' uncharacteristically awful defense hurt them.
They should feel fortunate it didn't prove catastrophic.
Stephen Curry jogged up court as Trevor Ariza streaked by him – yet another Golden State defensive lapse in a game with many already – and watched Ariza catch a pass near the basket behind the defense. Trying to recover, Curry jumped on Ariza and fell – hard. Curry left the game with what Golden State called a head contusion, and he somehow returned in the second half.
That was the good news for the Warriors.
The bad news: practically everything else.
The Rockets scored 45 first-quarter points – the most by any team in a playoff quarter since 2001 and most in a playoff first quarter since 1986 – en route to a 128-115 win in Game 4 of the Western Conference finals on Monday.
The Warriors, barring a damaging late diagnosis, should have Curry at full strength when they try to close the series in Game 5 Wednesday in Oakland. Houston, which overcame a 3-1 deficit against the Clippers last round, is trying to become the first team to win a series after trailing 3-0.
James Harden (45 points, nine rebounds, five assists, two steals and two blocks) gave the Rockets extended life in this series, shaking off a rough Game 3. His brilliance coupled with Houston's good fortune resulted in a resounding win.
When Harden makes this shot (which didn't count)…
And Josh Smith's shot chart looks like this…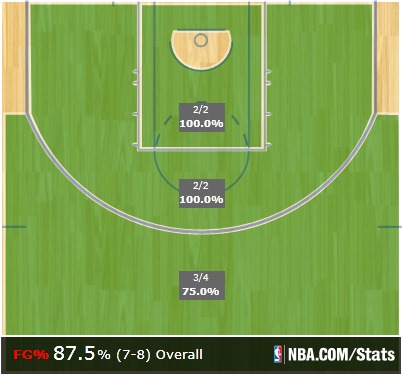 And Dwight Howard doesn't get ejected for this…
…it's your night.
We'll see how long the Rockets' momentum lasts. If Howard's flagrant 1 gets upgraded to a flagrant 2, he could face suspension.
That'd be a major loss against the dangerous Warriors, who need just one more win to advance to the Finals.
Even after they fell behind by 25, Klay Thompson (24 points) and Draymond Green (21 points, 15 rebounds, four assists and five blocks) led them within six in the fourth quarter. Curry (23 points and four assists) wasn't bad, all things considered.
But Houston was too good against a Golden State team ill-prepared to begin the game and playing without its best player for a long stretch.
Credit the Rockets for tonight. They came to play in a situation where many teams fold.
Will everything align for them three more times in a row, though?