Everyone is talking about James Harden.
Flip on a sports television or radio and here is the James Harden they are talking about:
• With the game on the line couldn't get the last shot off.
• That he didn't realize he was passing to Dwight Howard at the top of the arc or he would have not made that dish.
• Then in frustration he tore down a curtain.
That's all true.
But here's the other thing people should be talking about:
• James Harden has been nothing short of brilliant for two games.
That last point will get lost in the noise.
Harden put up 38 points, grabbed 10 rebounds and had nine assists Thursday, that coming off a 28-11-9 Game 1. As it has been all season, he has gotten inconsistent help from his Rocket teammates, in part due to injury, and yet for two games he has just put his head down, lifted his team up and carried them farther than anyone expected.
The last two games, on the road, he carried them within a bucket of wins — in Houston's late 8-1 run he had six points and an alley-oop to Howard. Harden has had two wildly entertaining duels with Stephen Curry.
"Sometimes I want to crack open a beer and get a courtside seat," is how Andrew Bogut described the top two MVP vote getters.
Harden entered these playoffs with critics and doubters. They questioned his ability to score against playoff defenses. They questioned his leadership.
Even down 2-0 to the Warriors, Harden has answered all those questions.
Some of those critics just didn't like watching his style of play, using his physicality and putting the pressure on both defenses and officials. But the James Harden Thursday night was not just hunting for fouls, he was making brilliant plays with finesse — step back jumpers that nobody could stop, or lobs to Howard when defenders rotated over to stop him. He made smart decisions on when to drive, when to pass and when the best call was just him to go up with the shot. The Warriors have done a good job of forcing Harden to take midrange jumpers more this series — Houston tries to avoid that least-efficient shot — but he has hit 69.2 percent of those attempts through two games. Harden's game is about finding the little edge, the little crack in the defense, then going right at it hard and exploiting it. It's crafty and physical.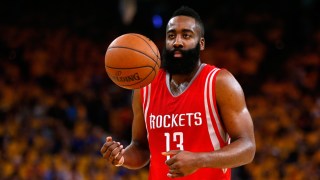 His game may lack the flair of Curry's, but it doesn't lack for skill.
Or effectiveness.
But that's not what everyone is talking about. Rather it is the last play, where Harden got the rebound off a Harrison Barnes missed layup with 8.5 seconds left and — with the blessing of his coach — pushed the ball up and tried to create a game winner in transition.
"I got the ball off the glass and I'm thinking 'try to get an easy one,'" Harden said postgame. "They did a good job of having two guys on me so I couldn't attack. When I looked up I saw a red jersey, it was Dwight (Howard) so I tried to throw it back to him. So I'm thinking with five seconds on the clock I tried to get the ball back but there still two guys right there. I watched the film, it was just a tough play."
"I will take our best player coming downhill in a broken court any day of the week to win the game, That's where James feasts," said Rockets' Rockets' coach Kevin McHale said of deciding not to call a time out, adding that there were a couple Warriors out of position to get back and he liked the idea of Harden attacking a broken play."
Statistically, that choice probably works more often than not, but trying it against the best defensive team in the NBA this past season is going to lessen those odds. It didn't work out for Harden this time.
But that's not all we should be talking about.