The NBA announced its All-Defensive teams on Wednesday, and three players — Kawhi Leonard, Draymond Green and DeAndre Jordan — made their simultaneous debuts on the first team this season.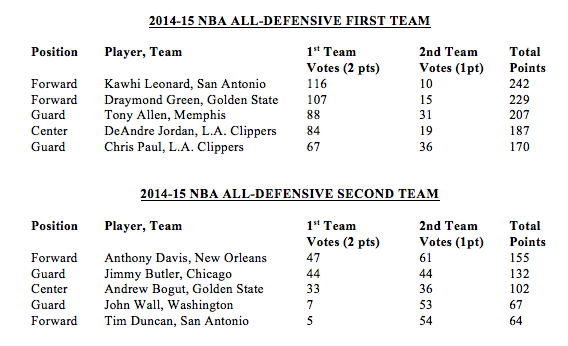 None of us got the first team entirely correct when turning in our unofficial ballots; we all had Andrew Bogut or Rudy Gobert at the center spots, and DeAndre Jordan was omitted completely. But our picks weren't meant to guess who would actually win, it was who we thought were the players most deserving. And the way it ended up breaking down was honestly a fine choice by the voters.
Two other points of interest here:
One, Bogut gets a nice payday as a result of his second-team selection.
But perhaps more importantly?