There have been plenty of indications throughout both the regular season and the playoffs that Cavaliers head coach David Blatt may not be the best fit, and may be gone once the season is finished.
LeBron James has publicly criticized Blatt more than once, and even worse, has come out and said that he's overruled his coach's decisions on more than one occasion.
Blatt almost blew a playoff game against the Bulls by not knowing his team was out of timeouts, and James' ongoing remarks seem to be aimed at throwing his coach under the bus.
Many have speculated that Blatt may be replaced after this season, but the report that emerged on Friday got the attention of Cavaliers owner Dan Gilbert — who publicly did what he could to shut it down.
From Joseph Zucker of Bleacher Report:
Speaking on The Doug Gottlieb Show, Bleacher Report's Ric Bucher reported that the Cavaliers will likely fire Blatt no matter how much further the team advances in the playoffs (via CBS Sports Radio's Adam Klug).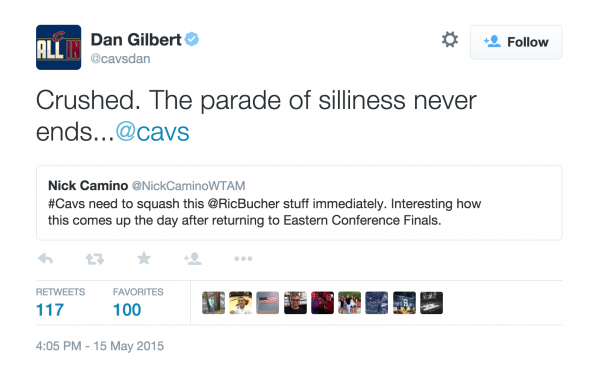 What he should have said was, "crushed … for now."
The reality is that no one knows at this stage whether or not Blatt will return next season. If Cleveland were to win the title, for example, even with LeBron overruling his head coach whenever he deems necessary, Blatt may be asked to stick around so as not to upset the championship dynamic.
But if Cleveland should fall short of its ultimate goal, it wouldn't be a surprise to see Blatt replaced.
Remember, he wasn't hired to coach LeBron James and Kevin Love as part of a team that was expected to contend; initially, his job was to rebuild the franchise before LeBron ever committed to returning to the Cavaliers.