The Sixers unveiled a set of new logos on Tuesday, and the one believed to be the primary in the series looks a lot like others we've seen teams change to recently.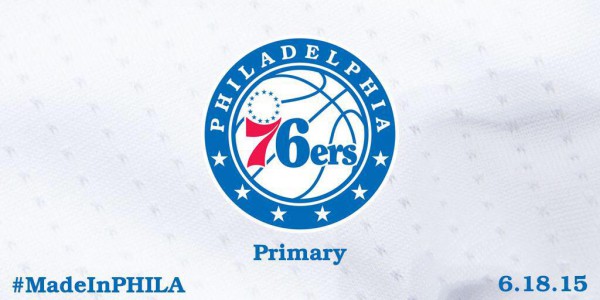 There seems to be a trend emerging of circular primary logos.
This one is very similar to the latest logos featured by the Wizards, the Nets and the Raptors.
The official release:
The Philadelphia 76ers today unveiled an updated brand identity, which includes a redesigned primary logo and a series of partial and secondary logo variations in advance of the NBA Draft Lottery on Tuesday, May 19 and the introduction of new uniforms on Thursday, June 18.

The logo set is effective immediately and updates the iconic Sixers design through the incorporation of new and traditionally significant elements.

The team's new primary logo is a modern interpretation of the classic Sixers insignia, stylistically redeveloped to include a patriotic blue border with six white stars and "PHILADELPHIA" adorned across the heading. The familiar white basketball has been visually updated with a positional rotation of the seams. The emblematic ring of 13 stars present in the primary, partial and secondary logos continues to represent the original American Colonies.

The introduction of the new logos tips off the launch of an updated visual identity for the Sixers, highlighted by new uniforms for the 2015-16 season. The uniforms will debut on June 18at a public event held from 7:00-8:30 p.m. at the Wells Fargo Center (3601 South Broad Street, Philadelphia, PA), where attendees will be treated to a series of dynamic digital displays and interactive elements. Sixers legends Billy Cunningham, Darryl Dawkins, Moses Malone, Bobby Jones and Allen Iverson and special guest Barbara Chamberlain-Lewis, sister of the late Wilt Chamberlain, are scheduled to attend, as well as current Sixers players.

The new uniforms are inspired by Sixers jersey designs from the eras of Chamberlain (late 1960s), Cunningham (1970s) and Julius Erving (1980s). More details on the uniform unveil are forthcoming.
Here are the rest that the Sixers unveiled — the most important of which, obviously, is the Benjamin Franklin alternate which was revealed last year.