Before the playoffs began, Cavaliers coach David Blatt said, "This all can't be on LeBron. This is a team and a team effort and everyone here has to do his part."
Yesterday, when Blatt drew up a play for someone else to attempt the game-winner, LeBron James said, "Just give me the ball."
Blatt, of course, listened.
This is how it has always been for LeBron with Cleveland. It's his show, his way, his time.
LeBron has claimed a level of control he never had with the Heat. Whether this is an intentional power grab, the mere byproduct of the NBA's biggest megastar picking a small market or an injury-created necessity, it hasn't been more evident on the court than in the playoffs.
LeBron has attempted a field goal or free throw, turned the ball over or assisted a basket on 39.0 percent of Cleveland's possessions this postseason. We'll call this number Adjusted Usage Percentage. It differs from usage percentage in two ways:
1. It includes assists.
2. It includes all a team's estimated possessions, even when the player is on the bench. (Possessions are estimated because some free-throw attempts are and-ones or technicals, not part of their own possession. Possessions ending in a team turnover are not counted.)
LeBron's 38.8 Adjusted Usage Percentage ranks first among all players in the last decade – giving him the top four marks in this era: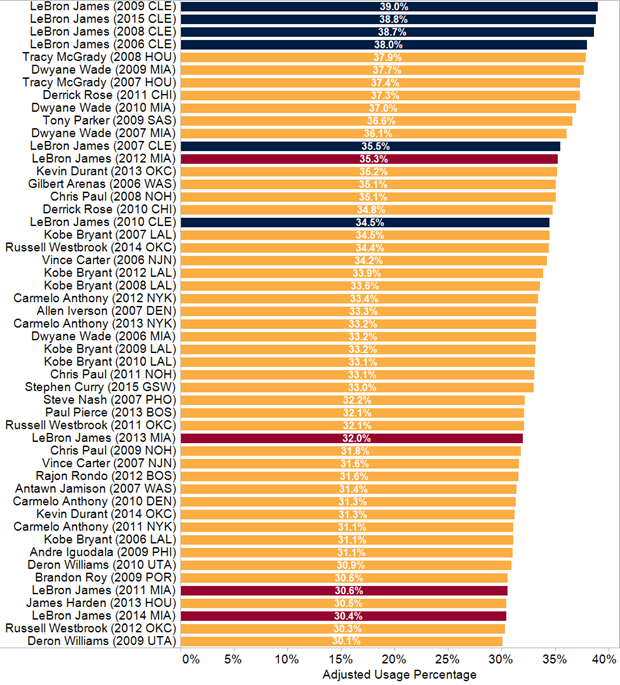 Players have exceeded an Adjusted Usage Percentage of 30.0 in the playoffs 51 times in the last 10 years, including LeBron each year. But LeBron's five highest Adjusted Usage Percentages have come with the Cavaliers and three lowest with the Heat.
Wasn't LeBron supposed to learn how to win and Miami and bring back those lessons, not just repeat his old Cleveland problems?
Unfortunately for the Cavaliers, this could be Cleveland's best available strategy.
LeBron knew Kevin Love is out for the rest of the season and presumably knew Kyrie Irving is battling a foot injury when he said he needed to be more aggressive. The short-handed Cavs might have no recourse but to let LeBron dictate everything.
And that's no so bad.
LeBron can take the Cavaliers pretty far playing this way. He's one of the best players – if not the best player – in the world, and he hit the game-winner yesterday after demanding the ball. (In a fitting celebration, teammates literally jumped on his back.)
But Cleveland is also seeing the downside of this approach. LeBron has shot 8-of-25 and 10-of-30 with seven and eight turnovers in his last two games.
It seems there's a cap with this style of play. LeBron can carry the Cavs and win a round or three, but eventually, opponents begin to solve the one-dimensional offense. Then, soon enough, he runs into a team capable of actually doing something about it – a task made easier as LeBron gets worn down by this heavy load.
LeBron doing everything probably gives the Cavaliers a higher floor but a lower ceiling. It's not the worst tradeoff, though if the goal is a championship, it's concerning.
One of the main reasons LeBron left Cleveland in the first place seemed to be the Cavaliers' inability to build a quality supporting cast, and the decline of Dwyane Wade and Chris Bosh probably contributed to his defection from Miami.
It was supposed to be different in Cleveland this time with Love, Irving and and a more-well-rounded LeBron. But Love is out. Irving is hobbled.
And LeBron is putting the Cavs on his back, just like old times – and we all remember how those seasons ended.