BOSTON – Jason Richardson knows plenty about losing.
He has spent 11 seasons in his 14-year career with losing teams. He has seen how losing tears teams apart, how it instills bad habits, how it fosters poor attitudes. He has played for multiple teams that were checked out mentally by this point in the season.
But he has never played for a team quite like these 76ers, who, by their 18-61 record, appear to resemble Richardson's prior poor squads.
"Being on this team, guys not thinking they're losers," Richardson said. "And that's a great sign.
"A lot of them haven't gotten opportunity in the past. A lot of these guys have been in the D-League. A lot of guys just coming into the league. So, they try to take advantage of that. So, that's what you want to see from young guys."
Emphasis on young.
The 76ers, with an average age – weighted for playing time and set to each player's age on Feb. 1 of a given season – of 23.2 are historically young. So are the Jazz, who have an average age of 23.4.
These teams are not just randomly stacked with young players. Their youth is fundamental to their identities.
Philadelphia is a full year younger on average than the NBA's third-youngest team this season (Magic), and Utah also nearly clears that bar:
Historically, the 76ers rate as the fourth-youngest team-ever, and the Jazz are sixth.
Both teams have seen average age fluctuate as their rosters have churned, and here's how the age of Philadelphia (red) and Utah (gold) has progressed through the season compared to the NBA's previous youngest teams: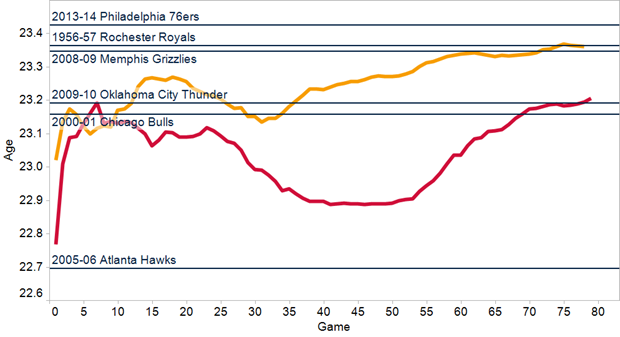 With roster compositions so different from the rest of the league, the 76ers and Jazz have their own styles.
"I won't say it's collegiate, but it's…" Utah coach Quin Snyder, who previously coached Missouri, said, trailing off. Philadelphia coach Brett Brown describes the 76ers as a "program," the college version of the NBA "franchise."
If it's not quite collegiate, it's as close as the NBA gets.
The 76ers were nearly as young last season, when they finished with, to the point, the seventh-youngest average age in league history. Brown emphasized player development, and the Jazz are following suit – in ways older teams won't.
Utah practices more often with contact and more frequently holds shootarounds.
"We try to squeeze every little bit out of every minute – whether it's practice, shootaround, games, film," Snyder said. "And that's important, I think, for a group that doesn't have experience. We're going to try to gain it any way we can."
Snyder and Brown both say they have stressed basic lessons, often repeating their message.
"If you haven't done something a thousand times, you've done it 10 times, you need to keep doing it," Snyder said. "So, the formation of habits, there's a redundancy there that, for a player, can get old. And for our guys, it's really a different type of mental toughness, to be able to come to work every day and grind and grind and grind. I always admired swimmers. To be able to to get in the pool and swim, that's hard. We've asked our team to, some of the most mundane things that you associate with basketball, to commit to them and to commit to them with a level of precision. We're not going to get better if we don't do it right."
And the Jazz have gotten better.
They're 17-8 since the All-Star break, playing lights-out defense. Players are improving, perhaps nobody more so than Rudy Gobert.
The 76ers have their own success stories – including Nerlens Noel breaking out and Jerami Grant steadily improving – in this environment.
To whatever degree these teams got young because youth usually means losing, and losing means a better draft pick, they're also committed to developing their players.
And it's not as if these teams have gotten freakishly young on the individual level.
Aside from 19-year-old Dante Exum – the NBA's fifth-youngest player behind Bruno Caboclo, Aaron Gordon, Noah Vonleh and James Young – there isn't a teenager in the bunch.
Philadelphia's youngest player, the 20-year-old Noel, isn't even in his first year in the league.
But to balance this on the other end, the Jazz have nobody over 27.
Do they know which player is the oldest on Utah's roster?
"Joe Ingles," Elijah Millsap said.
"We're tied," Ingles said. "We're kind of tied."
"I'll take Joe Ingles," Millsap said. "He looks older."
"My body is older," Ingles admits with a twinge of pride.
"I do know that I'm the oldest," Millsap finally conceded.
Millsap is correct. He's a month and change older than than Ingles.
Having this discussion? Two rookies.
Unsurprisingly, Millsap is younger than any oldest player on a team in the NBA this season: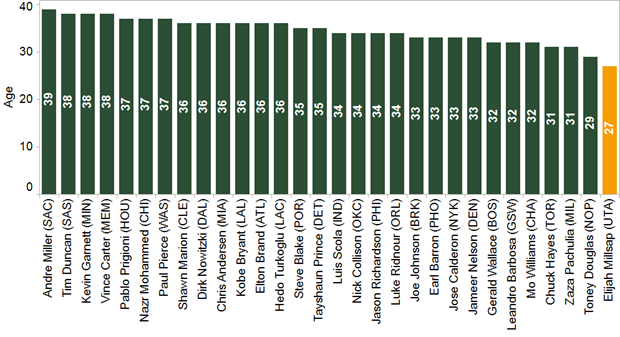 "We really don't have a veteran on this team," Millsap said. "I wouldn't say a veteran, veteran – a super veteran.
"I think it's better this way. Guys have to learn on their own, bump their head and, in the process, just continue to get better."
Gordon Hayward and Derrick Favors, both in their fifth seasons, are Utah's most-experienced players. Trevor Booker and Jeremy Evans are also in their fifth years, but neither has played nearly as much.
Hayward says he and Favors embrace leadership roles despite being so young, but, he adds, "It's definitely a weird situation."
That strangeness can turn out well for involved, though.
"It's kind of a blessing to be able to be kind of thrown into the fire," said Hornets forward Marvin Williams, who was a rookie on the 2005-06 Hawks – the youngest team of all time. "You have to take your lumps when you're learning on the fly like that."
Williams looked up to veterans Tony Delk and Tyronn Lue on that team, but in many ways, he was on his own in a mostly young locker room. Playing back-to-backs for the first time, Williams wasn't ready for the grind.
"I would take losses so hard," Williams said. "When I would go home, my buddies would always tell me I was in such a bad mood all the time. I wouldn't want to do anything. Sometimes, I wouldn't sleep."
There are advantages to having such young teams, though, especially when trying to develop chemistry.
"We have a lot of similar interests in just everyday things, from to music to the usual activities," Noel said. "Everybody gets along so well. Everybody was in college so recently, so I think we've done a great job bonding and staying close-knit."
But that process hasn't come as easily for everyone in Philadelphia.
"It challenges you," said Luc Mbah a Moute, the 76ers other established veteran, a 28-year-old and seven-year pro.
Which aspect is most challenging?
"Everything, pretty much," Mbah a Moute said. "Just the grind of having to be patient and having to wait and see how those guys learn. They pretty much have to learn through mistakes."
Though Mbah Moute said he enjoys seeing that process unfold, there are difficulties for him, especially when it comes to relating to his younger teammates.
"Definitely different. Definitely too young for me," Mbah a Moute said. "But I'm not that old, so we still spend time, enjoy ourselves. Obviously, I'm not as wild as they are."
Mbah a Moute certainly doesn't seem to be working against the stream, but Richardson – Philadelphia's oldest player, who received adult diapers from his teammates when he turned 34 earlier this year – sounds fully on board with the 76ers' youth.
"They gave me inspiration, just the way the come in and work hard and love the game. They're happy that they're here, but they're working still at the same time," Richardson said. "I can remember that feeling as a young guy."