BOSTON – Goran Dragic went to the back of the Heat's plane Tuesday night and brooded.
The Bucks had just beaten Miami on Khris Middleton's buzzer-beating 3-pointer, a play possible only because Zaza Pachulia beat Dragic to a loose ball:
"It was a 60-40 ball, really, for Pachulia, his advantage," Heat coach Erik Spoelstra said. "And Goran really felt that, somehow, someway, he needed to come up with that ball."
Dragic also wondered whether he should have conceded the ball to Pachulia and recovered to defend Middleton. Spoelstra assured Dragic he'd made the right play.
Besides, the coach didn't want to dissuade Dragic from chasing loose balls.
"He's hard-wired that way," Spoelstra said. "That's how we like it."
Dragic, who forced a mid-season trade to the Heat, has used his skill and hustle to boost Miami in a crowded Eastern Conference playoff race.
After the deal, Dragic expected to join Dwyane Wade, Luol Deng, Chris Bosh and Hassan Whiteside in one of the East's best starting lineups.
Instead, Bosh went down with season-ending blood clots, and Wade, Deng and Whiteside have each missed time due to injury. It has often fallen on Dragic to keep Miami charging – and he has delivered.
The Heat went 22-30 before the trade deadline and 11-8 since. Sitting in seventh place, they hold a 2.5-game cushion over the Pacers, Nets and Hornets for remaining in playoff position.
Dragic, averaging 17.0 points and 5.6 assists per game with Miami, is a key reason.
Unlike the other starting point guards traded during the season – Reggie Jackson (Thunder to Pistons), Rajon Rondo (Celtics to Mavericks), Michael Carter-Williams (76ers to Bucks) and Brandon Knight (Bucks to Suns) – Dragic has blended exceptionally well with his new team.
Dragic leads the group in after-trade PER: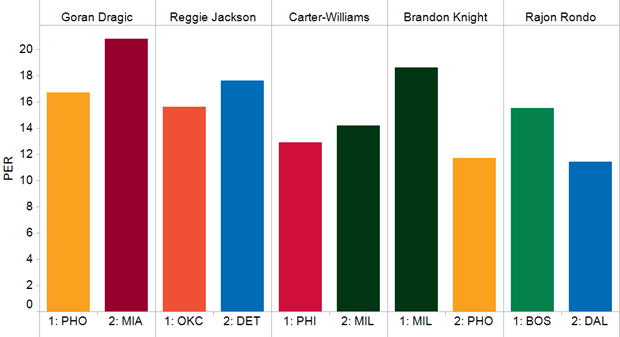 Win shares per 48 minutes: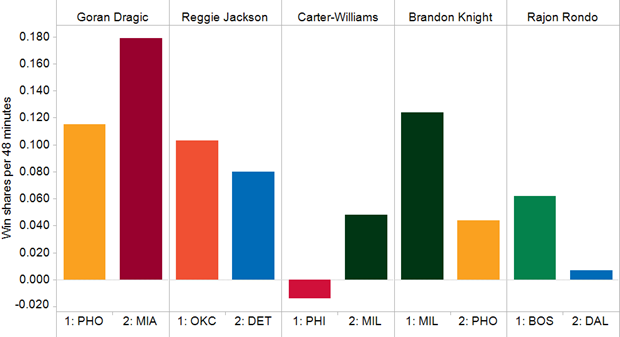 And box plus/minus: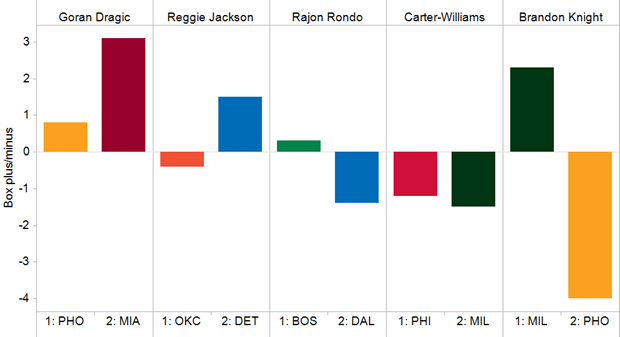 Not only that, he has improved in each category from before the trade to after more than the other players.
PER: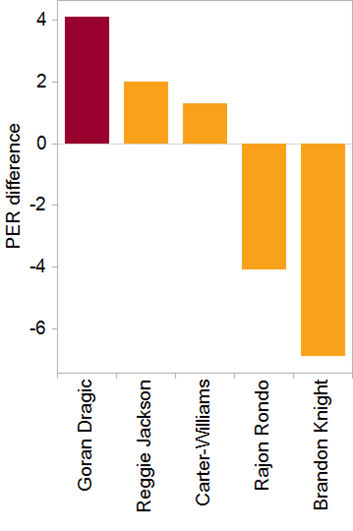 Win shares per 48 minutes: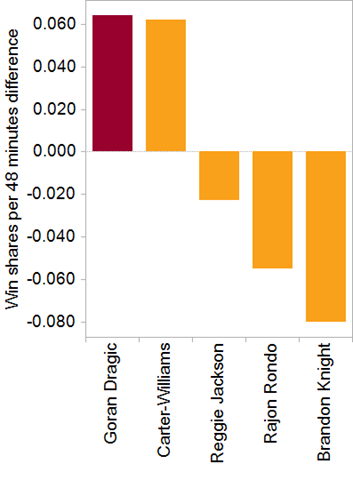 Box plus/minus: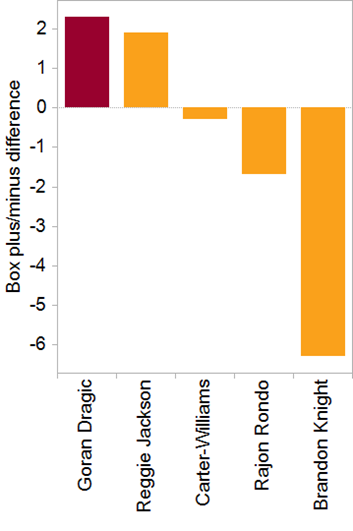 These aren't hollow numbers, either. Dragic's teammates rave about how he helps them.
"He's easy to play with from the standpoint of he's going to attack," Wade said. "He's always on attack, so the defense – he's going to get in the paint and finish, or he's going to create a lot of traffic, and he's going to be able to kick it out to you and you'll have open space."
So, why has Dragic surged more than his traded peers?
For one, he was the best player of the bunch last season and was unhappy in Phoenix this year. Sometimes, a change of environment does wonders.
Dragic also feels a sense of responsibility joining a team that reached four straight NBA Finals and won two of them. Though he lived his lifelong dream of leading a team with the Suns last season, he's happy to defer to Wade at times now.
"That's a team sacrifice," Dragic said. "When they won a championship when LeBron was here and those guys, they have to make a sacrifice."
It is a different tone from someone who noted Phoenix's early struggles were due to three point guards trying to share one ball. It also echoes the culture Pat Riley is trying to maintain in Miami.
This is part of the reason Riley traded two first rounders for Dragic and will probably offer him a max contract this summer. The Heat's prestige relies on continued winning, and Dragic helps the team win.
With Wade out against the Celtics on Wednesday, Dragic flipped a switch from focusing on sacrificing.
"My mentality before the game was that I need to carry this team," Dragic said.
He did, scoring 22 points and dishing seven assists in a key win for playoff position. But that's not the only way Dragic views carrying a team. He also threw his body all over the court:
[youtube https://www.youtube.com/watch?v=S5oTJPBk_7A?rel=0&w=560&h=315%5D
That type of hustle is a big reason Dragic has impressed his new teammates.
"The one thing that I'm really surprised is he plays hard," Deng said. "I knew he was fast, his skill, but he really plays hard.
"You've got to respect the guy when they play that hard."
That effort also makes Dragic a good fit.
Wade has played on 12 Heat teams, and this year's squad alone has seen multiple iterations. Since Dragic joined the squad, Wade has noticed Miami take a defined personality.
"This is one of my favorite units, because these guys are fighters," Wade said. "We're all fighters in here."
Dragic fought through his disappointment about the Milwaukee loss and excelled in Boston the next night. In all, he played 77 minutes during the back-to-back.
"Right now, I feel terrible," Dragic said, breaking into a smile.