If you watch closely every night in the NBA you can learn a little something. We know you are busy and can't keep up with every game, so we're here to help with those lessons from another night in the Association. Here's what you missed while watching your NCAA Tournament bracket go up in flames…
1) James Harden gives us 50 reasons he's an MVP candidate. If you're going to base your MVP choice on who has the most aesthetically pleasing game, pick Stephen Curry. James Harden's game isn't pretty. He isn't the explosive athlete that Russell Westbrook is. Yet Harden is effective — very effective. He dropped a career-high 50 points on the improved Nuggets, shooting 12-of-27 and getting to the free throw line 25 times (hitting 22). That's what he does; he attacks and you can't guard him without fouling. It's not always pretty, just look at is shot chart.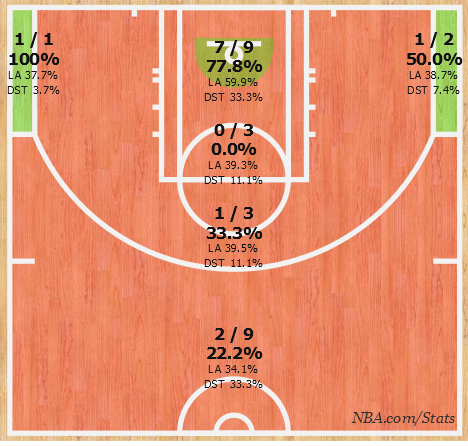 However, thanks to Harden the Rockets have held on to the three seed in the West without Dwight Howard in the lineup. That's Harden. That's the work of a guy you have to consider for MVP.
2) Ugly game sets Pelicans' playoff chances back. And the game of basketball. The Pelicans won four in a row without Anthony Davis not all that long ago, but if you watched the Suns and the Pelicans play Thursday you'd have to ask "how?"Here is all you need to know about the New Orleans vs. Phoenix game: The Suns shot 34.9 percent overall and 9.1 percent from three and won. The real issue for the Pelicans was this is the kind of game they really needed, they are now one game back of the Thunder for that final playoff spot in the West (and the Thunder likely get Kevin Durant back this week).
3) Utah keeps racking up wins since All-Star Game. The Jazz are now 12-4 since the All-Star break and have played the best defense in the league during that time. That said hopefully you watched Kentucky's game, or caught up on the new season of House of Cards, or something else rather than watching this game. It wasn't pretty. Utah won 80-73 behind 22 from Gordon Hayward, and the Jazz will take the win. Now let us never speak of this game again.