DeAndre Jordan is looking forward to free agency this summer, and why shouldn't he?
He'll be coming off a career season and in line for a max contract .
He plays for a good team, one run by a man who absolutely adores him.
And with the salary cap set to skyrocket in the summer of 2016, teams should be willing to spend this summer.
Jordan will have options galore.
One of them: Signing a one-year deal and waiting to sign long-term until the new national TV contracts kick in the following summer. He says he won't go that route, though.
Jordan, via Arash Markazi of ESPN:
"I'm not going to be greedy and sign a one-year deal," Jordan said. "Nah. I'm just focused on getting it over with and focusing on playing again. I'm just trying to win here."
Here's a projection of how much Jordan would earn by:
Signing a five-year max contract with the Clippers this summer (blue)
Signing a one-year max contract with the Clippers and then re-signing for the five-year max in 2016 (red)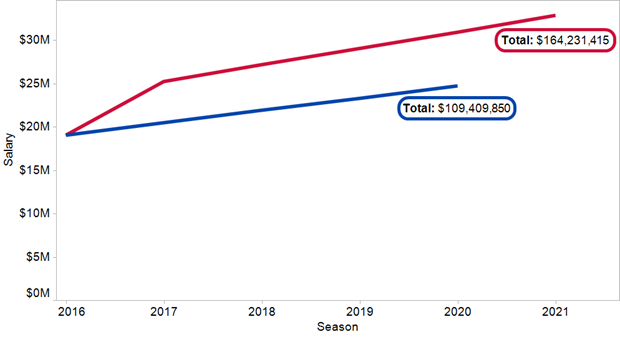 | | | |
| --- | --- | --- |
| Year | Five-year max | One-year max + Five-year max |
| 2016 | $19,027,800 | $19,027,800 |
| 2017 | $20,454,885 | $25,252,803 |
| 2018 | $21,881,970 | $27,146,763 |
| 2019 | $23,309,055 | $29,040,723 |
| 2020 | $24,736,140 | $30,934,683 |
| 2021 | | $32,828,643 |
| Total | $109,409,850 | $164,231,415 |
| Average | $21,881,970 | $27,371,903 |
Signing a one-year deal this summer could obviously be much more lucrative for Jordan.
However, there are other factors to consider.
Most notably, Jordan might not draw a max offer in 2016. He could get hurt or his production could slip. Taking the money now is definitely the safest route.
Jordan would also be in line for a new contract at age 31 rather than age 32 by signing a five-year deal this summer. Obviously, many variables will come into play between now and then. But the odds definitely favor Jordan being worth more at 31 than 32.
While Jordan's decision comes down to his priorities, this is a more clear win for the Clippers (at least if they re-sign Jordan).
They already have major money committed to Chris Paul and Blake Griffin through 2018, and J.J. Redick and Spencer Hawes have decent-sized contracts that run two and three more years, respectively. Plus, cap hits for the waived Jordan Farmar, Carlos Delfino and Miroslav Raduljica add up.
Long story short, if the Clippers had to worry about paying Jordan new-TV max money, it could take them deep into the luxury tax. Locking him up on an old-TV deal limits their risk.