BOSTON – Langston Galloway considered returning home to his native Louisiana during the All-Star break, but he figured he wouldn't have enough time to properly visit with everyone in his large and supportive family.
Besides, he had an opportunity of a lifetime in New York.
The Knicks rookie leaned on teammates to secure tickets to All-Star festivities in Madison Square Garden and Barclays Centers. In a highlight of his young NBA career, Galloway watched three days of events, particularly enjoying the actual game Sunday.
"Just looking at it as, hey, maybe one day I can get there," Galloway said.
Galloway was on hand for the Rising Stars Challenge, too. Asked about the possibility of making that game next season, he lights up.
"Definitely, yeah," Galloway said. "Shooting for anything and everything possible."
At this point, anything and everything seems possible for the 23-year-old.
Despite going undrafted, Galloway ranks third among rookies in points per game (11.0) behind only No. 1 pick Andrew Wiggins (15.9) and No. 2 pick Jabari Parker (12.3).
Galloway didn't get called up from the D-League until January, but he has quickly shown:
A clutch streak, making 6-of-9 3-pointers in the final five minutes of a five-point game, including these:
An opportunistic sense for making thrilling plays:
"He just showed a level of composure and poise for a first-year player that was pretty special,"  Knicks coach Derek Fisher said. "Didn't seem to get sped up by competition. Even sometimes the guy's better than him, he still seems to play at a pace that's comfortable for him. He's not afraid to take and make shots when he's open. Doesn't pass up on opportunities. And he's not afraid to guard any guy out there."
Galloway, who has started 20 of his 24 games with the Knicks, has a real shot at making an All-Rookie team. If he does, he'd become just the 11th undrafted player to do so* and just fourth to do it in the season immediately after going undrafted.**
*Gary Neal, Jamario Moon, Walter Herrmann, Jorge Garbajosa, Marquis Daniels, Udonis Haslem, J.R. Bremer, Chucky Atkins, Matt Maloney, Larry Stewart
**Daniels, Bremer, Stewart
Galloway's chances are certainly helped by playing in New York. His success in league's largest market has already boosted his profile.
But how good is Galloway actually?
The main reason he has an All-Rookie chance despite playing a max of 45 games is the underwhelming output – due to injury or otherwise – of this draft class.
And the Knicks have been starved for a young player of his caliber. Sure, his 11 points per game are nice, but they're hardly historic – at least for teams outside New York.
Channing Frye, the No. 8 pick in 2005, is the only Knicks rookie to average so many points per game in the previous 25 years. Just the Jazz (Trey Burke) and Pacers (nobody) have had so few rookies hit that mark in that span.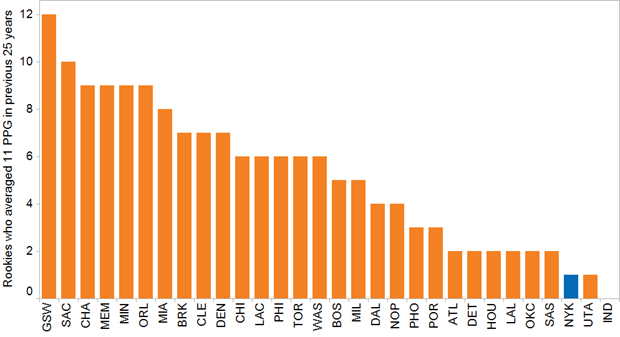 Galloway gets his points in a variety of ways, which is a bit surprising. He shot 39.2, 46.6, 39.4 and 44.7 percent on 3-pointers in four seasons at Saint Joseph's. Outside shooting appeared to be his only NBA-caliber skill, but Galloway also gets into the lane consistently, and he rebounds well for a guard. It's hardly a strength yet, but the 6-foot-2 Galloway has also improved as a point guard after primarily playing off guard in college.
If you want to extend it further, he plays with an infectious joy on a team headed for its worst record in franchise history.
"Just going out there each day and having fun, that's the main thing," Galloway said. "It's not a job to me. It's just like out there having fun like I've been playing since I've been four years old."
Not every day of this journey has been fun, though.
Galloway recalls the disappointment of draft night, hearing 60 names – though not his own – called. He took the following day off, his first relaxing day in months. Since Saint Joseph's lost to Connecticut in the NCAA Tournament, Galloway had been working out daily to prepare for the draft.
On June 27, he just laid in bed and played video games.
"You'd rather be going to another city or wherever you're playing at," Galloway said. "But at the same time, just to spend time with my family, they definitely helped me get through that whole day off and then moved onto the next day to start getting back in the gym."
The Knicks signed him for training camp, waived him and assigned him to their D-League affiliate in Westchester. When New York signed him to an NBA contract, Galloway was ready thanks to his parents.
"They've always told me never be scared of anything," Galloway said. "And just my confidence in myself, knowing I can go out there and compete against anybody in this world."
It's a message his extended family, including his uncles, has reinforced.
Appreciative, Galloway is looking forwarding to doing this summer what he didn't have time to do during the All-Star break – going home and celebrating his success with everyone.
"Eat some crawfish and some bad food that people wouldn't understand around here," Galloway said. "But just catch up and eat some Cajun food."