NEW YORK — Being a professional basketball player goes well beyond attending team-mandated practices and workouts. For the best of the best, it also involves going through hardcore training sessions designed to finely hone their skill set, both from a physical as well as from a basketball perspective.
Nike Basketball gave a group of media members the chance to see just what this was like, by putting us through a month-long training experience designed to mimic what the professionals go through in every way possible.
We met once a week for 8AM workouts, except during All-Star week where there were a few additional responsibilities. Car service was provided to and from the facilities, as was all of the clothing and footwear necessary to go through the complete training experience. And, a meal prepared by Chef Max — the personal chef of Amar'e Stoudemire — was waiting for us after each session was finished.
It was set up so that the only thing you had to focus on was giving your all during each workout session, just like the professionals. And the trainers that were enlisted to put us through the paces were demanding enough to ensure they got the most from all of us.
**********
The first week coincided with the launch of the Kobe X, so it only made sense that Kobe Bryant's (and Michael Jordan's) personal trainer, Tim Grover, ran our initial workout. The drills were a combination of conditioning and basketball, with little time to rest in between at any point during the 45-minute session. There were core exercises mixed in with plenty of cardio and leg-strengthening drills, and we held a basketball during all of them, because Bryant does during his workouts — as Grover said, "Kobe likes to feel the ball in his hands."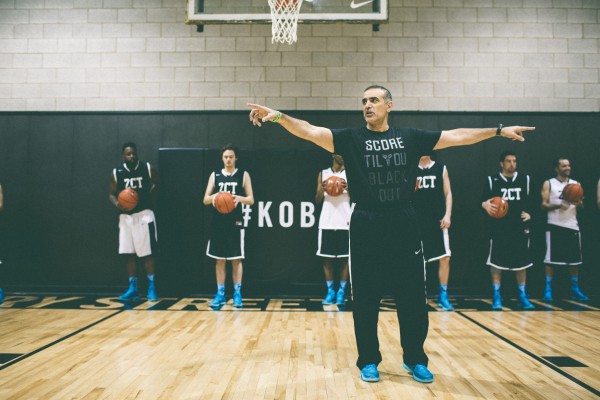 Week 2 was a slight departure from the full training experience, but there was still plenty to keep us busy. As part of the All-Star festivities, our group participated in Nike's Zoom City Classic, which was a six-team basketball tournament that also featured actors and entertainers like Common, Stalley, Eddie Huang and Ansel Elgort, as well as semi-professional players like Brian Kortovich, who lit it up from everywhere and walked away with MVP honors. The tournament was played at Nike's Zoom City arena that was specifically constructed to host All-Star week activities, and featured an insane LED court that provided a truly one-of-a-kind experience.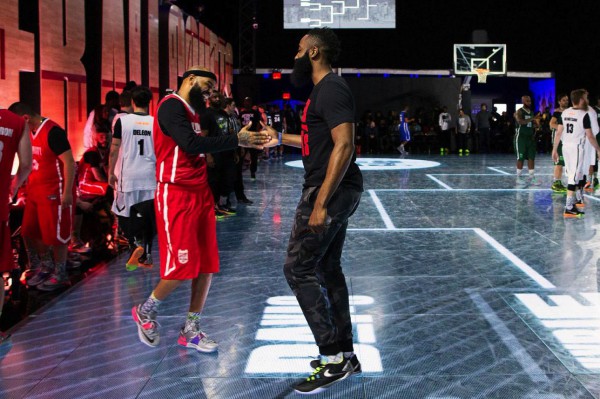 The day before the tournament, we were put through a series of tests modeled after the NBA's Draft Combine, where BAM testing-like measurements were taken in order to create even teams. Players like Kortovich added to the mix made that somewhat impossible, but the games were mostly competitive nonetheless, and a couple ended with some very intense buzzer-beating finishes.
Weeks 3 and 4 were more like the first, with early-morning workouts run by the game's elite trainers. Jerry Powell has worked with the likes of Paul George, Kevin Durant and LeBron James, and his drills had us focused primarily on honing our fundamental basketball skills, while teaching us ways to improve upon them at the very same time.
The last workout was run by Idan Ravin, who boasts a similarly impressive client list and is known in the industry as being somewhat secretive about his practices. He authored a book called The Hoops Whisperer, and his workout was the most intense of the bunch, as the drills involved the targeting of specific muscle groups to support the moves most commonly made on the court by the game's top athletes. There was non-stop cardio training in between, and the combination of that and the knowledge that was imparted made for an extremely enlightening (and completely exhausting) final session.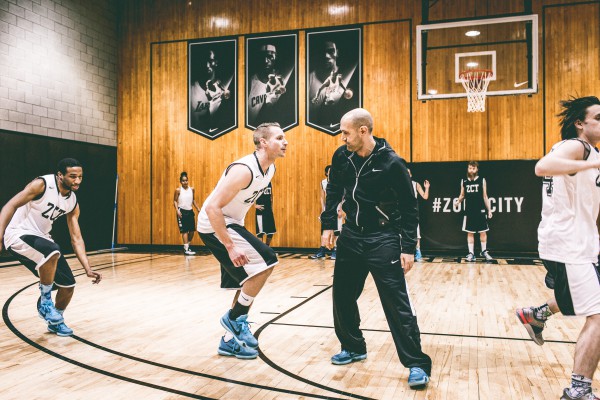 The month-long journey was a perfect way to experience just how much hard work goes into training at an elite level. While it's true that the vast majority of those in the NBA have genetic gifts that most of us could only dream of, to those who consistently seek to outperform their peers or hope to emerge as one of the game's greats, the additional training sessions aren't merely an occasional luxury — they're an absolute necessity.
**********
THE SHOES
A recap of all the footwear that was tested during the month-long Nike Basketball training experience, along with a brief performance review of each.
WEEK 1
The tenth signature model for Kobe Bryant has been improved over its predecessor in two significant ways. The cushioning system is now a hybrid of multiple technologies, which makes for a much bouncier feel and a solid and comfortable ride from forefoot to heel. The traction is brand new, and uses nodules that grip the court similar to those that appear on performance race car tires. The fit is comfortable from the moment you put these on, with zero break-in required. These lived up to expectations, with the overall performance ranking right up there with any basketball shoes currently on the market.
WEEK 2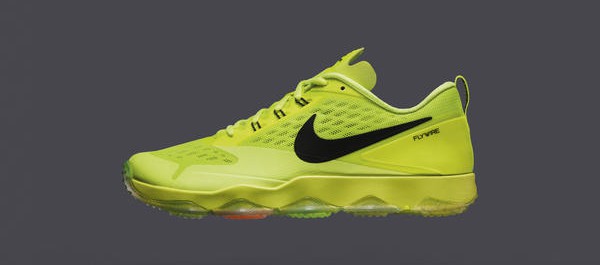 The first time I got a chance to try these was at the LeBron 12 launch in Portland back in September, and I've been a fan ever since. The hex zoom pods on the sole are excellent for multi-directional training workouts, like those we were put through as part of our NBA Combine experience. The shoe features a snug and lightweight fit, and the cushioning is there wherever you need it, thanks to the pods passing you seamlessly from one to the next as your foot changes positions throughout your training session.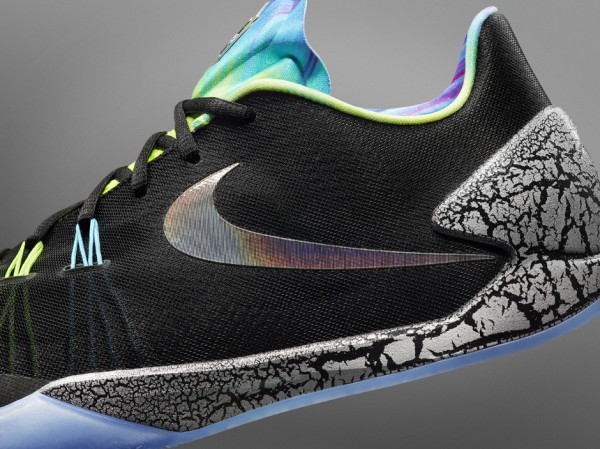 The Hyperchase is a new model, designed for playmakers like James Harden who was the inspiration for the way this one performs. The stylings are more interesting than most, thanks to an asymmetrical design and the angular position of the Swoosh, which was placed that way intentionally so that "it would read accurately when an athlete, like Harden, is on his toes – a position that's common for quick, dynamic athletes." These ones fit nicely, with little-to-no noticeable slippage once you're locked in. The shoes feature above-average traction, and plenty of forefoot cushioning, which helps immensely when attempting to make that explosive first step.
WEEK 3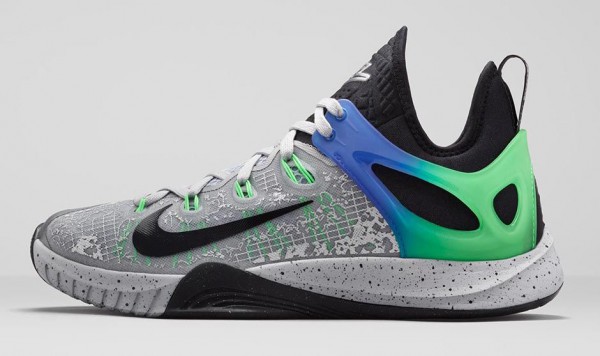 These are surprisingly good basketball shoes, and maybe even the best of the bunch. The cushioning and lockdown are both very impressive, the latter made possible by a foam collar construction that provides a snug and comfortable fit. Traction and breathability are well above average, too, and I've found myself reaching for these time and again when heading to subsequent workouts. I recommend a half-size up from what you normally wear due to the way these fit, and while I don't want to oversell these too hard, they really provide an extremely solid level of overall performance.
WEEK 4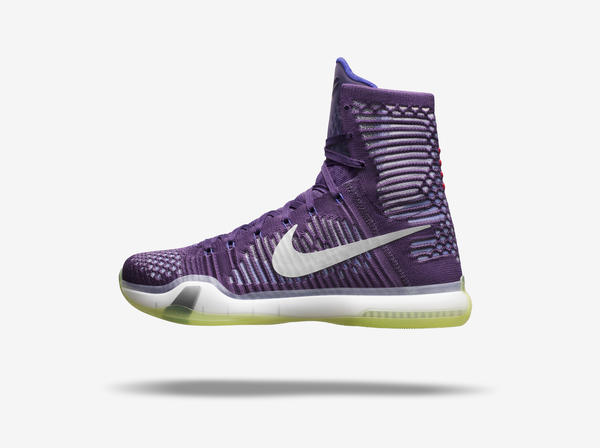 This was a very cool surprise.
It's not often you can shock members of the basketball sneaker media with something unexpected, but when we were told we'd be getting to play in the Kobe X Elite the day of our final training session — a shoe that hadn't yet been announced, and wasn't even on anyone's radar considering the Elite series usually doesn't drop until near the end of the regular season — there was a palpable sense of excitement.
The Kobe X Elite goes with the highest of high-top silhouettes, much like its predecessor, the Kobe 9. The cushioning system is improved over the previous year's model, and is the same that's found in the Kobe X low version we demo'd the first week. The Flyknit upper makes for a more sturdy and locked-in feel that stops just short of being rigid, and players who value ankle support will certainly appreciate it. If you liked the high-top 9s, then you'll like these, too — they take a significant step forward in that particular design's evolutionary process.