Goran Dragic made it clear to the Suns he wants out of Phoenix.
But because they have him under contract the rest of this, they don't have to accommodate him. They could keep him the remainder of the season, maybe trade Isaiah Thomas and dare Dragic to pass up more money.
Here's how much Dragic projects to make if he re-signs (orange) or signs elsewhere (purple):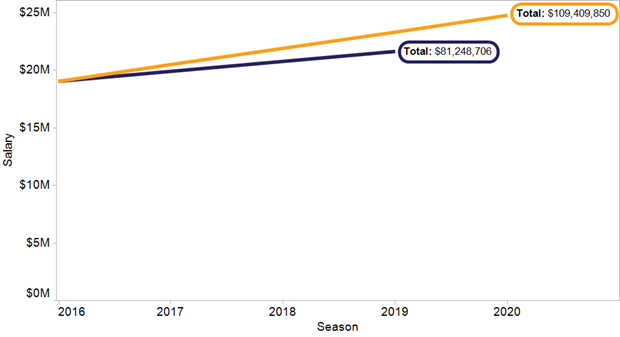 | | | |
| --- | --- | --- |
| Season | Re-sign | Sign elsewhere |
| 2016 | $19,027,800 | $19,027,800 |
| 2017 | $20,454,885 | $19,884,051 |
| 2018 | $21,881,970 | $20,740,302 |
| 2019 | $23,309,055 | $21,596,553 |
| 2020 | $24,736,140 | |
| Total | $109,409,850 | $81,248,706 |
It seems the Suns won't try to prove Dragic is bluffing, though.
The Phoenix Suns will try to move star guard Goran Dragic before Thursday's 3 p.m. ET trade deadline
Sources told ESPN.com that the Suns are resigned to try to strike a deal before the deadline with a team Dragic is prepared to re-sign with in order to avoid losing their All-NBA point guard in July without compensation.
Marc J. Spears of Yahoo Sports:
The Celtics are loaded with draft picks, and this is a more realistic target than DeMarcus Cousins. The Kings are always looking to make splash. And the Rockets have been linked to Dragic, too.
None of those teams are among Dragic's preferred destinations – the Lakers, Knicks and Heat – but they want Dragic's Bird Rights and the inside track at re-signing him. No matter which team Dragic plays for after 3 p.m. tomorrow, that team – and only that team – will can offer him five years and about $110 million. Every other team will be limited to four years and about $80 million. (Exact amounts will be determined once the salary cap is set in July.)
Obviously, teams will want to gauge Dragic's interest in re-signing before trading for him. So, surely Boston's, Sacramento's and Houston's willingness to surrender assets is conditional.
Dragic took away a lot the Suns leverage by stating of his plan to leave. But Phoenix still holds some leverage with his Bird Rights. If the Suns won't use them to offer Dragic a bigger contract than he could get elsewhere, Phoenix will find the team that will.