NEW YORK – Carmelo Anthony had barely settled into his seat in the All-Star game interview room when he was asked his reaction to Amar'e Stoudemire's buyout.
"Man," Melo said. "That's the first question? You ain't going to ask me about the weekend?"
Of course, Melo wants to savor this All-Star weekend in New York, his birthplace and the home of his Knicks.
But this Monday morning, a cold reality beckons.
Melo's knee is still injured. The Knicks are still wretched. Melo said he was unsure how he'd handle the situation, but this set of circumstances ends only one way – probably sooner than later.
Before Melo shuts down, though, he wanted to represent his city in the All-Star Game – to do his part to maker New York a power again.
It's hard to see how that'll work, though.
Melo reversed course and said he didn't recruit free agents this weekend. Any attempts to display his own appeal on the court went even worse.
The Knicks forward shot 6-of-20, scoring 14 points. It was a gutty performance, as a clearly hobbled Melo pushed himself for 30 minutes – more than he expected to play.
It was also a bad performance.
Nobody in All-Star history has scored fewer points when shooting at least 20 times:
Of course, Melo was at a disadvantage because he barely crossed the threshold for attempts. But even by points per shot, Melo ranks last in the sample: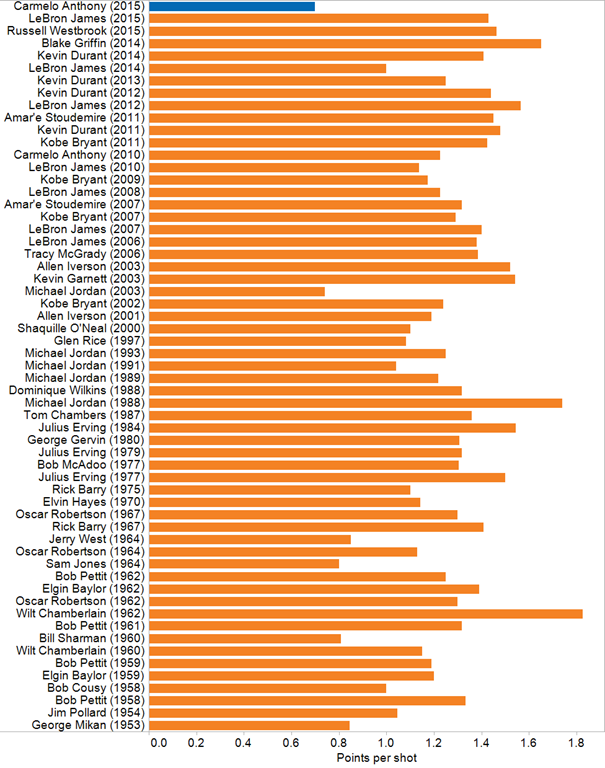 With a roster literally full of All-Star teammates, most players know this is not the game to keep hoisting if you're not feeling it.
But Melo – who said he "didn't want to go full speed, because I didn't want to take that chance" – never had that realization.
He's definitely not LeBron James, who jumps from playing with Dwyane Wade and Chris Bosh to Kyrie Irving and Chris Bosh. Melo is not used to playing with stars on this court. He no longer even has Stoudemire, whom Melo gushed about:
"Amar'e brought something back to New York that New York was kind of missing and needing for a long time. When he came, he brought back some excitement here for the game of basketball here in New York. There was hope when he came back. People started believing in the New York Knicks once again. He was the reason.
"One of the main reasons why I'm a New York Knick today was because of him."
Now, Melo returns to the Knicks' lackluster roster. He deserves credit for trying to pull this group through the season, for trying to repay his fans by playing in the All-Star game. His heart is in the right place. The execution just hasn't matched.
And it seems Melo realizes the status quo is unsustainable.
"The only thing that matters at this point is where we're headed as a team, as an organization in the future. That's the only thing we can start preparing for," Melo said, "and we have to start preparing for that right now."
Asked whether he'd call Stoudemire last night, Melo said he'd wait.
"I've still got to decompress from my night, this whole weekend," Melo said.
An unforgettable weekend over, Monday morning has come to soon for Melo.