BOSTON – When Hassan Whiteside declared for the 2010 NBA draft, he was considered a likely lottery pick.
Three years later, his reputation in the United States was in tatters. A failed two-season stint with the Kings seemingly confirmed the maturity concerns that pushed him to the second round coming out of Marshall. After all, if his physical tools – 7-foot with a 7-foot-7 wingspan and impressive leaping ability – couldn't keep him in the league at age 23, what was wrong with him?
So, Whiteside went to Lebanon to play for "the only team that would take me."
"I've always been NBA, NBA, NBA since I was little. So, it didn't really change anything as far as," Whiteside said, tapping his heart, "it went for me. But other people was probably like, 'No way he's going to get back there.'"
Not only is Whiteside back, he's thriving.
Whiteside is averaging 9.1 points, 7.7 rebounds and 2.4 blocks per game for the Heat. Per 36 minutes, those numbers translate to 18.0 points, 15.2 rebounds and 4.7 blocks.
His PER (28.0) ranks No. 2 in the NBA – sandwiched between Anthony Davis and Kevin Durant. Miami has brought Whiteside along slowly since signing him in November, sending him to the D-League and initially bringing him off the bench. But it's time to question whether the the Heat discovered a true star hiding in plain sight.
Whiteside looks exactly like his best-case projections entering the draft, so this isn't completely out of left field. It just took longer – and required overcoming more obstacles – than expected.
The NBA didn't embrace him until now, but when was Whiteside ready to tear through the league as he has?
"You never know if you're ready to swim unless you jump in the pool," Whiteside said.
After his experience overseas, Whiteside jumped in with both feet.
Whiteside recalls seeing a man die in front of him following a car crash in Lebanon, the man's son crying at his side. Whiteside still thinks about it, grateful for where he is now.
Another time, Whiteside had a scheduled physical interrupted because there was a car bomb earlier in the day near the Beirut hospital he planned to visit.
"It really put things in perspective," Whiteside said. "It's different watching it on the news and when it's down the street."
Or in the arena.
In Whiteside's second Lebanese game, a fight in the stands interrupted the contest with players going in and out of the crowd.
"Where did I come?" Whiteside thought to himself. "I want to go back to America. This is crazy."
You can watch the game – a big upset for Whiteside's team – including the fight (29:20) and Whiteside's postgame interview (1:34:30):
"You do some things when you're chasing a dream," Whiteside said. "You do some crazy things. I love basketball. So, that's where basketball took me."
It also took him to China, where as he put it, "your translator is basically everything to you."
"If he's lazy and he don't want to help you, you're going to struggle," Whiteside said.
How was his?
"He had his good days and bad days," Whiteside said. "I'd give him a C."
Now, Whiteside cherishes these experiences, the two-year odyssey around the globe.
"It really made me who I am," Whiteside said. "It's really coming out to be a great journey for me."
Whiteside said he never understood the criticism that ensnared him after he left Sacramento. He insists he "just got older. I'm the same person."
For what it's worth, Heat coach Erik Spoelstra says nothing but good things about Whiteside's work ethic so far.
"He embraced it," Spoelstra said. "And I think it helped, his perspective and his experiences the last couple years. So, it was the convergence of a lot of good timings."
Really, Whiteside can retroactively erase his old reputation by remaining a model NBA citizen in Miami. If he does, the Kings' credibility will suffer, whether or not the criticism was fair at the time. Whiteside was too irrelevant then for most fans to remember his alleged thorniness now. They'll just wonder how Sacramento ever let him go.
In the spotlight – his emergence dubbed Hassanity – Whiteside has an effective fresh start. Asked how he continues to stay hungry amid his recent success, Whiteside reveals a mindset that will effectively clear any demerits on his permanent record.
"So what whatever I did in the past," Whiteside said. "Every day is a new day. I just really want to make people just remember my name."
If he keeps this up, people will.
Whiteside is averaging 13.6 points, 10.5 rebounds and 3.3 blocks per game in the calendar year. Only Alonzo Mourning, David Robinson, Hakeem Olajuwon, Shaquille O'Neal, Dikembe Mutombo, Patrick Ewing, Kareem Abdul-Jabbar and Bob McAdoo – Hall of Famers or future Hall of Famers – have hit those marks over a full season.
They each played more than 36 minutes per game. Whiteside is doing it in just 24.3 minutes per game.
And these aren't empty numbers.
The Heat outscore opponents by 2.2 points per 100 possessions with Whiteside on the court and get outscored by 6.6 points per 100 possessions without him. None of the other dozen Miami players who've appeared in at least 20 games have such a positive influence: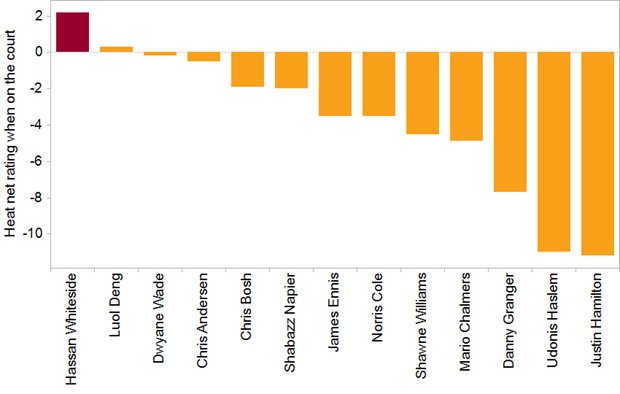 Whiteside's impact is particularly noticeable defensively.
Opponents are more selective about shooting in the paint – certainly due to Whiteside blocking shots at a per-minute rate the NBA hasn't seen in a few years – but they're not selective enough. Miami allows 57 percent shooting in the paint without Whiteside and 46 percent with him.
Whiteside is showing his offensive range, too. He has a soft touch to the point this shot, while exceptional, is not a huge outlier:
There's still a segment that believes Whiteside is succeeding by catching teams off guard – that once they game plan for him, Hassanity will end.
"I mean, if they're not putting me in their scouting report now," Whiteside said, "thank you."
To be fair, there is an element of surprise among Whiteside's peers. Chris Bosh said he'd never even heard of Whiteside until his Heat workout.
Bosh said Whiteside "hasn't done anything yet" and likes to remind the third-year player of it. Frequently.
"He doesn't like talking to me all the time about that stuff," Bosh said.
Is that true?
"Oh, nah man," Whiteside said. "Chris Bosh is the man. He's a 10-time All-Star. Anybody would want to take advice from him."
Add Bosh to the list of people wrong about Whiteside.
Bosh doesn't want to be in the group wrong about Whiteside's next step, though. He's pushing Whiteside – whose minimum salary for this season and next has been a huge bargain for the Heat – to earn a big contract.
"I'm demanding, I guess," Bosh said. "It's just because I see the potential that he has."
Bosh is looking toward Whiteside's future.
Spoelstra is focused on Whiteside's present: "It's hard not to root for somebody like that, but the most important thing now is to be able to sustain that. And the things we talk about are the work ethic and the program we have set every single day for him, and he's been good about embracing the work."
And Whiteside can't stop thinking about his past.
"A lot of people like that story where somebody started from the bottom, and now they're starting to see progress and success," he said. "Because I feel like everybody can relate to that.
"Everybody got dreams of theirs. And people like to see other people succeed, even when it's times in their lives that they struggled."