BOSTON – Tyson Chandler made history the moment he played for the Knicks.
After helping the Mavericks win the 2011 championship, Chandler hit free agency during post-lockout chaos. Concerned about flexibility under the new Collective Bargaining Agreement, Dallas let Chandler sign with New York rather than than offer its own large multi-year deal.
It's rare a player posts more than nine win shares for a championship team and doesn't play for that team again the following season. It had happened with just Michael Jordan (1993 and 1998 with the Bulls), Bill Russell (1969 with the Celtics) and George Mikan (1954 with the Minneapolis Lakers), but they each retired after their title(s). Chandler – who had 9.4 win shares for the 2010-11 Mavericks, second to only Dirk Nowitzki – became the first to play for a different team the next year.
Dallas has won just three playoff games in the three years since letting Chandler leave, and the Mavericks' relative struggles have not been lost on the center. Nor has it been lost on anyone else that Dallas failed to turn its cap flexibility into any major additions, getting spurned by Dwight Howard, Chris Paul,Deron Williams, LeBron James, Chris Bosh and Carmelo Anthony.
Mavericks owner Mark Cuban practically admitted it was a mistake to let Chandler leave in 2011.
Does Chandler – who returned to Dallas in an offseason trade from the Knicks – ever wish he had stayed?
"Not so much," Chandler said. "In the past, I did, especially when I watched them the year after the championship. I understood that things happen. The only thing that I think is, I just hope in one place long enough to get an opportunity to see my jersey hanging in the rafters one days. I think that would be your ultimate goal."
Will that affect him in free agency next summer?
"Not at all," Chandler said.
Chandler and the Mavericks are once again heading down this path. Dallas is a championship contender, and Chandler is on an expiring contract.
This time, though, Chandler is better than ever.
In his 14th season, he's averaging 10.5 points on 66.9 percent shooting and 12.0 rebounds per game.
He's having a career year by PER (20.8):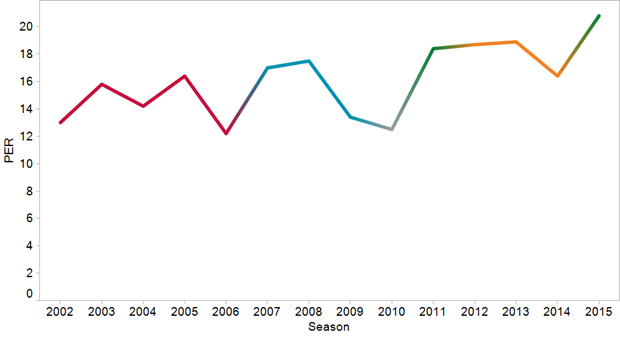 …win shares per 48 minutes (.228):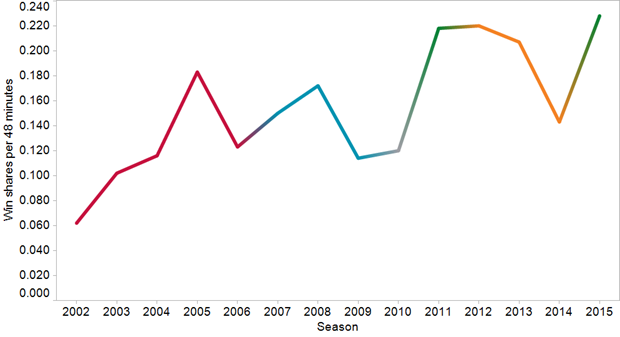 …and the eye test.
Asked how Chandler has changed since coaching him four years ago, Rick Carlisle responded quickly.
'He's better this time around," Carlisle said
"He's a smarter player, because he's more experienced," Carlisle continued. "His skill set is better. His overall knowledge of the game is better. He was always a good paint controller, but he communicates better. So, he's gotten better as he's gotten more experience, and we're fortunate to have him back."
It's unlikely Chandler – who spent five seasons in Chicago, three in New Orleans/Oklahoma City, one in Charlotte, one in Dallas, and three in New York before returning to the Mavericks – stuck anywhere long enough to get his jersey retired. But if he has a chance anywhere, it's Dallas.
Though Chandler has spent only one full season with the Mavericks, he was the second-best player on a championship team. Dallas, which entered the NBA in 1980, also has just two retired jerseys – 15 (Brad Davis) and 22 (Rolando Blackman).
So, there 's room for more numbers in rafters – beyond Nowitzki's 41, a lock – if this era remains successful.
Chandler, reenergized playing with a contender, believes the Mavericks have the ingredients to go far. Though every player but Nowitzki has changed since 2011, Chandler is frequently and pleasantly reminded about his experience in 2011, when he said the Mavericks had "special locker room."
Did he ever experience anything like that with the Knicks?
"No," Chandler said. " We never quite jelled. We worked at it, and it wasn't that it wasn't good guys. It was just, for whatever reason, we never meshed that way."
Is Dallas' locker room now special?
"This is," Chandler said. "It's incredible guys here. I love them. I wouldn't choose a different group. I love coming to work every single day with them and growing with them."
In some ways, it's funny to hear Chandler talking about growing after all these years. He's at a point many players, especially big men, are fading.
But he also entered the league straight from high school, meaning he has more pro experience than his age suggests.
"I'm still young," said Chandler, 32. "I still feel great. I still feel like I've got a lot of years in this league to bring the same type of energy and enthusiasm. When that goes, I think I'm going to go, because it's such a huge part of my game, and I love playing that way. So, I think when I lose that passion and desire is when it will be time for me to step away."
Until then, it's clear he and the Mavericks have a good thing going.
But soon enough, the question again becomes: How long will it last?