This appeared in Tuesday's New York Times: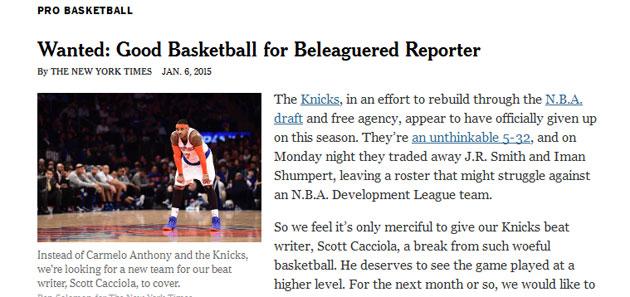 That's quite a dig.
With their loss Monday night, combined with a Philadelphia win over Cleveland, the Knicks took over as the team with the worst record in the NBA. And I think we can all agree, if you love the game of basketball then the Knicks are not easy to watch.
However, that was a bit of a cheep shot by the Times.
As noted by Kelly Dwyer at Ball Don't Lie (among others), the life of Knicks beat writer for the Times Scott Cacciola is not that bad. Yes, he has to sit through some tough games and the travel can be daunting, but he gets to cover sports for a living, working for the greatest American newspaper. Things could be a whole lot worse. We in the NBA media will have complaints about or jobs now and again, like everyone else, but at the end of the day we're fortunate. I'm a basketball junkie who is lucky to have this outlet, this platform and this team of writers at PBT. I don't want to take a moment of it for granted. I don't know Cacciola, but I bet he feels much the same way.
That said, the Knicks do suck this season.