BOSTON – Darren Collison lost a job because he played well. He lost a job because he got hurt. And he lost a job because he played poorly.
The point guard has moved around the NBA at nearly an unprecedented rate for someone with his early career credentials, but maybe, just maybe, he has found a place he can stay for a while.
The Kings gave Collison a three-year, $16 million contract in free agency last summer – even though that meant casting aside incumbent starter Isaiah Thomas, a player many (myself included) thought was superior to Collison. Collison has rewarded their faith, posting career highs in points per game (16.4), assists per game (5.9) and PER (18.7).
There's little stability in Sacramento – where the coach just got fired despite exceeding all reasonable expectations, the owner has his own crazy ideas and the franchise player is brooding – but Collison has potential to stick. His speed equips him to run the up-tempo, jazzy system Vivek Ranadivé wants, and Collison's bond with DeMarcus Cousins gives him a powerful ally.
"The opportunity is definitely here," Collison said last week. "It just seems like everything is all coming together. I'm more confident."
Collison has long had reason to be confident in himself, though not always his fit with his team.
He broke in with the 2009-10 New Orleans Hornets, getting a huge opportunity when Chris Paul got hurt. In 37 starts, Collison averaged 18.8 points, shooting 48.5 percent from the field and 42.9 percent on 3-pointers, and 9.1 assists per game – All-Star-caliber numbers. Of course, no matter how well Collison played, the Hornets weren't going to choose him over Paul.
They dealt him to Indiana, where he became a full-time starter and helped the Pacers end their longest playoff drought of his lifetime (four seasons). Reggie Miller comparisons didn't seem outlandish. But Collison got hurt during his second season in Indiana, and George Hill Wally Pipped him in the starting lineup.
The Pacers sold low on Collison, trading him to the Mavericks. Dallas initially started Collison, but he lost the role to Dominique Jones, then Derek Fisher, then Mike James after Rick Carlisle expressed frustration with Collison's defense. By the time the 2012-13 season ended, the Mavericks didn't even extend Collison a qualifying offer.
He signed with the Clippers, taking a pay cut from his rookie-scale contract. Full circle, he was once again backing up and sometimes playing with Chris Paul. After the season, he opted out seeking a raise.
That's when the Kings came calling, becoming Collison's fifth team six seasons.
Just two other players have made an All-Rookie first team since the NBA-ABA merger and played for so many teams in their first six seasons:
Marc Jackson, 2001 (Warriors, Timberwolves, 76ers, New Jersey Nets, New Orleans/Oklahoma City Hornets)
Ron Mercer, 1998 (Celtics, Nuggets, Magic, Bulls, Pacers)
Jackson was out of the league one year later, and Mercer lasted only one more than that. The 27-year-old Collison certainly hopes he won't suffer a similar fate.
That's why Collison appreciates his opportunity in Sacramento.
"That's all it is, really," Collison said. "There's a lot of good players in this league, but they don't necessarily have the opportunity. Sometimes, they're with a team, and they still don't have an opportunity. They're not going out there playing their games. I think, this year, I have a chance to do that.
"When I was with previous teams, it was hard to fit in. I couldn't play my game, necessarily. So, this year, has been good for me."
And good for the Kings' offense.
They're posting their best offensive rating relative to league average in a decade, and Collison is steering the ship.
Prior to this season, Collison has never had a dramatic effect on his teams' offensive outputs. They'd all scored within two points per 100 possessions with him on the court as they did with him off.
But Sacramento's offensive rating jumps from 95.6 with him off to 107.8 with him on.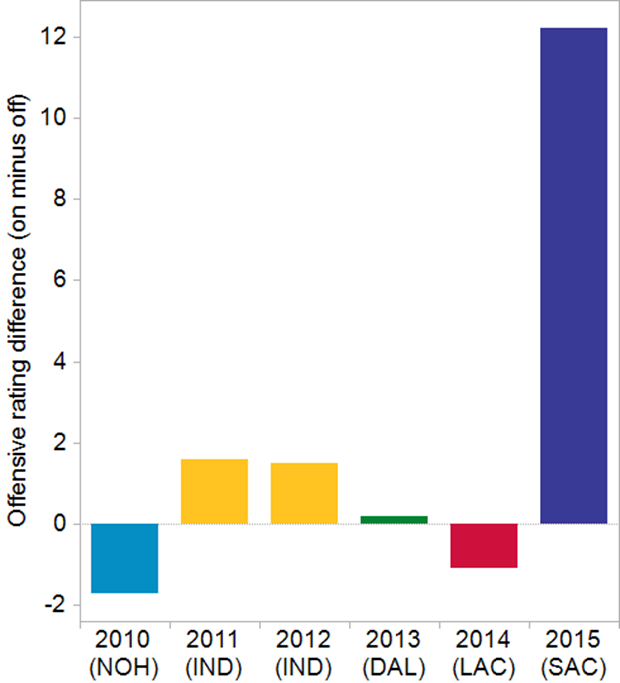 Some of that success can be chalked up to Collison spending most of his minutes with Cousins, Sacramento's top player. But credit Collison for quickly learning how to play with the star center. Cousins scores better by volume (26.8 to 24.2 points per 36 minutes) and efficiency (51.7 to 46.4 field-goal percentage) when Collison is on the court rather than off.
The key to meshing with Cousins?
"Give him the ball, and let him work," Collison said. "…It's that easy."
Collison's deferential attitude aside, he's not merely riding Cousins' coattails. When the center missed 10 straight games with viral meningitis, the Kings still scored much better with Collison on the court than off (103.7 to 94.7 points per 100 possessions).
In fact, pair Collison with any teammate, and the Kings score better with Collison on the court. Here's Sacramento's offensive rating with each player and Collison on the court (purple) and off the court (black), sorted by minutes played with Collison: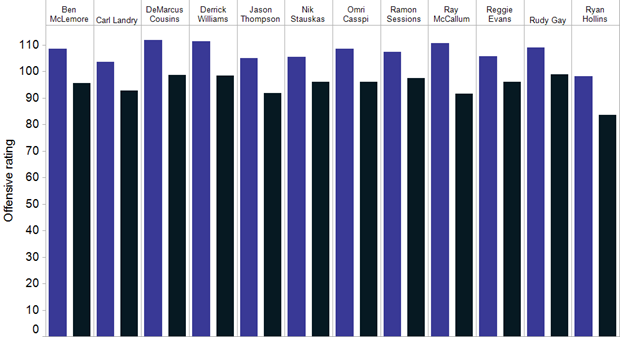 (Eric Moreland, who barely played before suffering a season-ending injury, is excluded from the visualization.)
| | | | | | |
| --- | --- | --- | --- | --- | --- |
| Player | Min. with Collison | Min. without Collison | Off. rating with Collison | Off. rating without Collison | Diff. |
| Rudy Gay | 966 | 200 | 109.1 | 99.0 | +10.1 |
| Ben McLemore | 874 | 254 | 108.5 | 95.5 | +13.0 |
| Jason Thompson | 682 | 157 | 105.1 | 91.9 | +13.2 |
| DeMarcus Cousins | 550 | 195 | 111.9 | 98.6 | +13.3 |
| Carl Landry | 263 | 358 | 103.7 | 92.8 | 10.9 |
| Reggie Evans | 238 | 185 | 105.7 | 96.0 | +9.7 |
| Derrick Williams | 206 | 243 | 111.3 | 98.4 | +12.9 |
| Omri Casspi | 155 | 300 | 108.6 | 96.0 | +12.6 |
| Ryan Hollins | 144 | 58 | 98.1 | 83.6 | +14.5 |
| Nik Stauskas | 141 | 330 | 105.4 | 96.1 | +9.3 |
| Ray McCallum | 71 | 205 | 110.7 | 91.7 | +19 |
| Ramon Sessions | 33 | 394 | 107.4 | 97.4 | +10 |
| Eric Moreland | 1 | 1 | 200.0 | 166.7 | +33.3 |
At some point, the common denominator becomes clear: Collison.
He knocks down pull-up jumpers from mid-range, not exactly an analytical hotbed, but a part of the floor that opens thanks to his pick-and-roll probing. He has improved working off the ball, spotting up for corner 3s. And he keeps the ball moving.
In a conference where half the Kings' opponents start a former All-Star at point guard, Collison doesn't exactly stand out. But he's brining credibility to the position in Sacramento.
"He's comfortable," Kings coach Tyrone Corbin said. "He's gotten his confidence back. His speed, pushing the ball down the floor. He knows he's going to be on the floor for a certain amount of minutes, so he's relaxed and just playing at a pace that's favorable to his style of play."
It'd be foolish to say Collison, just 31 games into his Sacramento tenure, has found a home. His previous teams have struggled to determine whether he should start or come off the bench for fair reasons, and toeing that line has made him expendable.
But this season, Collison is showing he's a quality starter.
"This year, I definitely proved that," Collison said. "So, now, it's not even about proving to be a good starter. It's about leading the team now."