The Bulls had won seven straight and 10 of their last 11 before suffering a surprising home loss to the Nets on Tuesday, so it's not like there's a reason to panic, or even a cause for concern.
But there's no denying that Derrick Rose is struggling with his shot.
Everything Rose-related is, of course, heavily scrutinized. But this look under the microscope shows that from a pure statistical standpoint, Rose is shooting the ball at career-worst percentages.
After going 2-of-15 from the floor against Brooklyn, which followed a 5-of-20 effort the previous night against the Pacers, Rose vowed to continue to shoot the ball when he's open, even if the shots won't fall.
From The Chicago Tribune (via HoopsHype):
Rose followed his 5-for-20 night at the Pacers with a 2-for-15 clunker in the Bulls' 96-82 loss to the Nets that snapped a seven-game win streak. With a 0-for-5 night from 3-point range, Rose dropped to a career-low 26.3 percent on the season from that distance. Worse, he's attempting a career-high 5.4 attempts per game.

"Terrible," Rose said, when asked to describe his night. But Rose won't stop shooting. "My confidence to shoot is there," he said. "All of them were on target. They're just not falling. I'm not going to stop shooting. If they go under (screens), I'm going to shoot the shot. I work on it enough. I just haven't seen them go in yet."
Rose has never been a good shooter from three-point distance — which is the reason the scouting report says that defenders should go under the screen. But while he's being given those open looks for a reason, that doesn't necessarily mean he should stop taking them altogether.
Offenses bog down and become stagnant when players pass up open shots, but if time on the shot clock permits, Rose should really be looking for opportunities inside the arc. Take a look at his shot chart to this point of the season: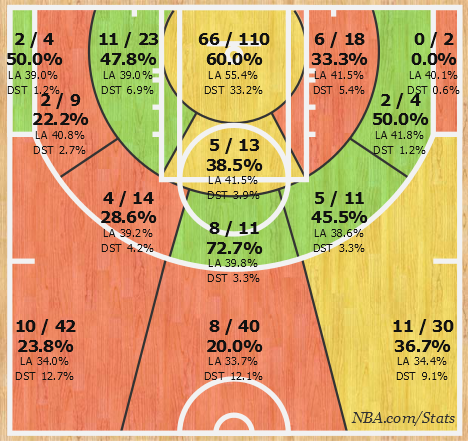 What's most glaring, here, is the fact that Rose has launched 118 three-pointers while making them at a dismal rate of just 26.3 percent. By contrast, he's taken eight fewer shots right at the rim — and those he's making at a 60 percent clip.
Defenses know this, of course, which is why Rose gets plenty of space to bomb away from the outside. He's right to want to keep shooting, despite the recent slump. But he should be smarter about where he's taking those shots.