BOSTON – Nikola Vucevic is more confident than ever and playing the best basketball of his life.
Perhaps, it's because the Magic gave him a four-year, $54 million contract extension last offseason.
"It just kind of gives you a kind of peace of mind, to where you do what you do, and you don't have to worry about those things," Vucevic said. "I feel like I know that I put the summer in, the work in, and I know what I sacrificed to get to here. Now, when I get on the court, there's no reason for me to doubt myself."
On the flip side, Orlando failed to reach a deal with another rookie-extension-eligible player, Tobias Harris. If Vucevic's extension made him comfortable, how did Harris not getting one affect him?
"I'm always going to work hard at anything I do just because I love this game," Harris. "Ever since I was a kid playing basketball, I always just instilled the work ethic in myself to be the best that I can be, free agent or non-free agent."
Vucevic confirms Harris' mindset hasn't changed. In fact, Vucevic has though the sacrifices Harris makes to improve are "sometimes even too much."
"He wants to compete all the time," Vucevic said. "Whatever you do, he has to be the best. When it comes to dressing up, the car you have, the music you listen to, whatever – Tobias, he has to be the best."
So who has the team's best car?
"I do," said Vucevic, who declined to share what he drives.
Though Vucevic's vehicle remains a mystery, here's what's clear: A confident Vucevic and competitive Harris are driving the Magic, and if they keep this up, they'll deserve real All-Star consideration.
Orlando has repeatedly hit the right notes with these two. The Magic drafted neither Vucevic (No. 16 in 2011) nor Harris (drafted No. 19 the same year), acquiring both in trades. Vucevic came from the 76ers in the Dwight Howard megadeal, and Harris from the Bucks as the primary return for J.J. Redick. Whatever motivational factors Orlando had in mind when negotiating their contract extensions last offseason, Vucevic (18.2 points on 52.0 percent shooting and 11.8 rebounds per game) and Harris (18.6 points on 47.4 percent shooting and 7.2 rebounds per game) are having All-Star-type seasons.
Between six and eight frontcourt players will make each All-Star team. Vucevic and Harris rank fifth and sixth among Eastern Conference frontcourt players in Estimated Wins Added, a PER-based stat that accounts for playing time, behind only LeBron James, Carmelo Anthony, Al Jefferson and Chris Bosh.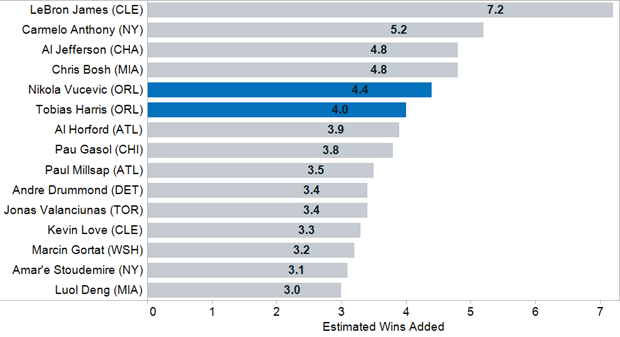 This is not to suggest Vucevic and Harris should make the All-Star game, merely that they're reasonable candidates. Of course, it's unlikely they'll be treated as such – especially in tandem.
The Magic are 11-20. It's hard enough for a losing team to send a player to the All-Star game, let alone two. In the last 30 years, just 11 teams with losing records at the All-Star break produced multiple All-Stars.
| | | |
| --- | --- | --- |
| Team | Record at All-Star break | All-Stars |
| 2012-13 LAL | 25-29 | Kobe Bryant, Dwight Howard |
| 2011-12 BOS | 15-17 | Paul Pierce, Rajon Rondo |
| 2007-08 WAS | 25-27 | Caron Butler, Antawn Jamison |
| 2006-07 NJN | 25-29 | Vince Carter, Jason Kidd |
| 2005-06 HOU | 22-31 | Tracy McGrady, Yao Ming |
| 1996-97 MIN | 23-25 | Kevin Garnett, Tom Gugliotta |
| 1994-95 DET | 17-29 | Joe Dumars, Grant Hill |
| 1993-94 NJN | 22-24 | Kenny Anderson, Derrick Coleman |
| 1992-93 GSW | 23-30 | Chris Mullin, Tim Hardaway |
| 1992-93 DET | 21-29 | Joe Dumars, Isiah Thomas |
| 1987-88 PHI | 20-23 | Charles Barkley, Maurice Cheeks |
All those teams had better winning percentages than this year's Magic. The last team with such a poor record and two All-Stars was the 1971-72 Cavaliers, who were 15-32 at the break and sent Butch Beard and John Johnson. Back then, the East had just eight teams from which to build an All-Star squad.
Now, with 15 teams per conference and an unofficial allocation of reserve votes based on team record, it's a practical certainty Vucevic and Harris can't both reach the All-Star game.
If one makes it – and that's far from guaranteed – it will probably be Vucevic, whom Doc Rivers called an All-Star. The Clippers coach also described Vucevic as "probably the best player in the league that nobody knows."
"When he says nobody knows me, it's kind of true," Vucevic said. "Not a lot of people knew about me before, but I've never been worried about it. I knew what I was capable of. I had the talent. I just had to keep working to sustain it and become good."
Without question, Vucevic is good. The 7-foot center is an effective post player with range well outside the paint. He's shooting 66.0 percent at the rim and 43.0 percent from mid-range. Only Anthony Davis tops both those marks (minimum: 100 shots from each location). Vucevic, though his feet still run a little slow and he's not a great rim protector, is making defensive progress. For the first time, the Magic are allowing fewer points per possession with him on the court than off, though he's always hovered around their team-wide mark.
Similarly, Harris is on the right track. He's shooting 39.3 percent on 3-pointers, well above the 28.0 percent he was shooting beyond the arc entering this season. His increased range has opened the floor for himself and teammates, and he likes to advantage with well-timed cuts to the baskets. Playing more small forward this season after seeing a lot of time as a stretch four last season, Harris has really enhanced his all-around game.
The big question: If these guys are so good, why is Orlando so bad?
It's a fair point.
To some degree, they're putting up numbers on this team because someone has to. But imagine where the Magic would be without Vucevic and Harris. Orlando performs better when those two share the court than any of its other 10-most-used duos. And more directly, Harris has hit two game-winning jumpers.
Earlier this month against the Hawks:
And last month against the 76ers:
With Harris already holding a reputation for clutch play entering the season, a dearth of quality wings around the league and a rising salary cap looming, Harris will get plenty of attention this summer. Don't be surprised if the annual salary on his next contract exceeds $10 million.
He's reportedly interested in the Knicks – playing in New York would reportedly trigger a bonus in his Nike contract – but he'll be a restricted free agent. The Magic can keep him, and he's on record saying he wants to remain in Orlando.
If all else fails, Harris could accept the qualifying offer for next season and become an unrestricted free agent in 2016, when the salary cap should skyrocket. If Harris starts 17 more games or plays 1,121 more minutes this season, he'll raise his qualifying offer from $3,394,726 to $4,433,683. It's a small advantage, one Harris is likely to meet, but it'd nudges him a little closer to that route.
How much would the Magic pay to keep Harris? They have one of the league's most egalitarian salary structures.
Channing Frye ($8,579,088) is the second-lowest-paid player among teams' highest-paid players, behind only the 76ers' Jason Richardson ($6,601,125). Victor Oladipo ($4,978,200) is the lowest-paid player among teams' second-highest-paid players. Ben Gordon ($4.5 million) is the lowest-paid player among teams' third-highest-paid players, behind only the 76ers' Joel Embiid ($4,427,640).
And so on. The Magic's fourth- (Aaron Gordon), fifth- (Vucevic), sixth- (Luke Ridnour) and seventh- (Elfrid Payton) lowest-paid players are the or among the lowest-paid in the league for their team rank. It's telling that Orlando's second- and fourth-highest paid players are still on their-rookie scale contracts.
What it means: The Magic still have incredible flexibility to shape their roster.
Their seven highest-paid players are all contract for next season. That's when Vucevic's big extension kicks in, and Frye is the only other Orlando player slated to make more Oladipo's rookie-scale salary. Harris is the team's eight-highest-paid player.
So, if the Magic think they're onto something here – with a young core that also includes an emerging Oladipo and Evan Fournier – there's little reason to let Harris bolt. Frye, the team's veteran leader, sure believes they're onto something with Vucevic and Harris.
"They're developing as leaders on this team, as kind of the pillars of where we're going to build this team," Frye said. "And I'm cool with that. I'm very cool with that. And it's an honor to play with these guys and watch them develop, and I think they're both learning that they can't do it by themselves and that with each other, we're a very good team. We're going to put it all on them."
For now, both players are still trying to find their place in the league individually.
Vucevic, with the big extension and nice car, is a bit further along in that process. Even Harris, who said he drives a BMW M6, admitted Vucevic had the team's top car – though not without his signature competitiveness showing in the answer.
"He does," Harris allowed, "now. But – yeah he does."
Told of Harris' admission, Vucevic calmly nodded.
Vucevic's confidence and Harris' competitiveness are working for each player right now. Vucevic is proving why he got paid, and Harris is showing why he should get paid. In the process, the duo is driving the Magic in the right direction, and the next major stop might just be New York for the All-Star game.