When you talk about the best point guards in the game, be careful not to leave Damian Lillard off the list.
The Blazers' scoring machine outdid himself Friday night scoring 43 points — 26 of them in the fourth quarter and overtimes — plus six assists to lead Portland to a big triple overtime win over the Spurs, 129-119.
That's the second straight triple-overtime game for the Spurs (and the second loss in those games). This was the first night of a back-to-back for San Antonio, knowing Gregg Popovich I wouldn't bet on seeing many of the Spurs stars on Saturday night in Memphis.
But the story Friday night was Lillard, who was 16-of-29 shooting on the night. He did most of his damage with what is traditionally an inefficient shot, from the midrange. Check out his shot chart on the night.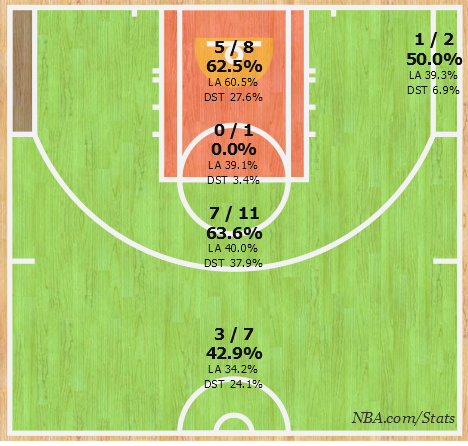 Lillard has games where he bails out Portland (sometimes from a substandard performance from the team, sometimes against a top opponent). This season we haven't seen a lot of that from him as LaMarcus Aldridge, some good balance, and improved defense meant Lillard didn't need to step into the spotlight as often. Friday night he had to step into it.
And he did with one of the best games of his career.
I really can't wait until the Western Conference playoffs.