This says everything about the Western Conference:
Dallas just pulled off a brilliant trade for Rajon Rondo, one that improves their defense and gives them a big upgrade at the point guard spot. Yet the best you can say about them now is "this makes them one of the five or six teams that could make the Finals out of the conference."
However, at least now they are in that conversation now.
Thursday Dallas traded Brandan Wright, Jameer Nelson, Jae Crowder, a future first (heavily protected) and a future second round pick to Boston for Rajon Rondo. The deal became official Thursday night.
It was a smart move by Dallas, the kind of aggressive move you should expect from a Mark Cuban team.
Dallas has been one of the teams in the West that was very good — they are 19-8, which is a 58 win pace for the season — and yet was clearly a notch below the elite in the conference. They were 0-5 against the rest of the West's Top 7 and even Dirk Nowitzki admitted they didn't really look like contenders.
Rondo can change that.
I can hear the critics now — but he can't shoot! The Mavericks just traded for a point guard who can't consistently knock down jumpers and three pointers. You go under the pick on Rondo, you let him shoot (except from the left elbow. Here's his shot chart for this season.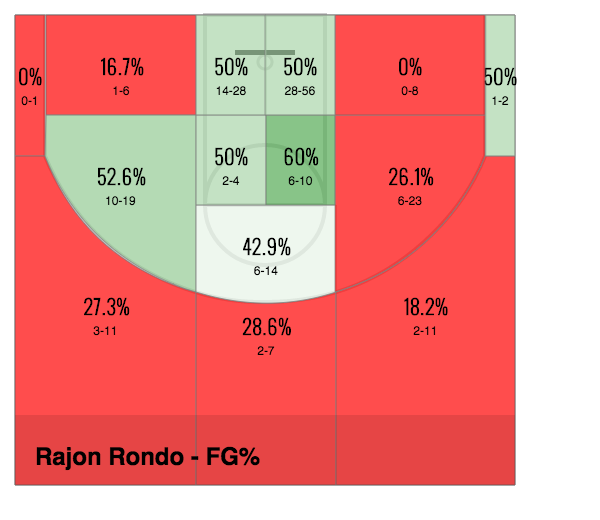 All of that is moot — Dallas doesn't need him to shoot.
This situation is a lot more like the 2008 Celtics for Rondo — he has three guys around him who can shoot and space the floor, including a 7-footer who will draw other bigs out of the paint. Like with those contending Celtics all he needs to do is draw in the defense and set them up, and that's what Rondo does well. He is a fantastic ball handler who can get in the lane but when he does he looks to pass first — now he has legit options.
Look at it this way: Rondo leads the league in assists setting up Kelly Olynyk and Jared Sullinger, what is he going to look like setting up Dirk Nowitzki, Monta Ellis and Chandler Parsons? Plus he loves to probe and pass off the pick-and-roll, and now he gets great picks and a good roll-man in Tyson Chandler with real shooters spreading the floor for him. All this makes Rondo just that much more dangerous on offense. He'll get points but he doesn't have to carry the scoring load, just orchestrate those who can. And he'll be getting play designs from the best Xs and Os coach in the game in Rick Carlisle (with all due respect to that guy in San Antonio).
Dallas already has the best offense in the NBA this season — that's not the end of the court Rondo really helps the most.
Rondo is also a massive defensive upgrade over Nelson. Rondo is long, athletic and a fantastic on-ball defender that gives Dallas a real stopper on the perimeter. Pair that with Chandler as a rim protector and Dallas will move from its current 20th in the league defensively closer to the top 10.
Is it enough? Who knows in the West. Golden State is legit (if Andrew Bogut is healthy). Memphis is legit. The Spurs will likely be back to being the Spurs by the playoffs. The Oklahoma City Thunder are themselves again. The Clippers have holes but also boatloads of talent at key spots and are in the mix if they defend.
Now Dallas can sit down at the big-boy table, too — Rondo puts them there. They have a chance.
As a Mavericks fan, that's all you can ask.