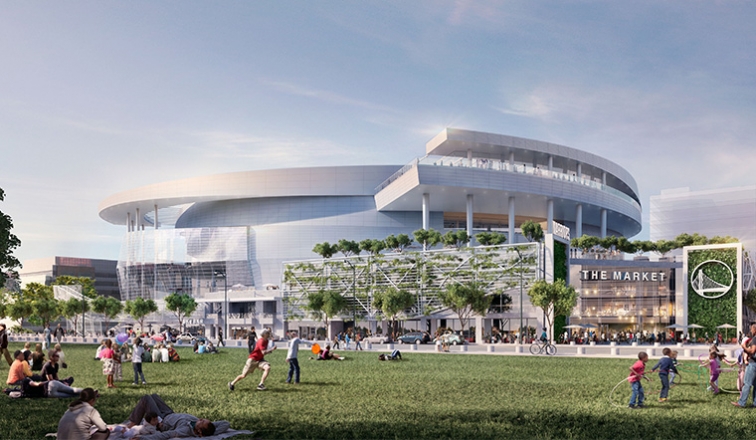 This should end the jokes that came out when the pencil renderings were released.
The Warriors and Manica Architecture released a series of images and an update of what the new arena in the Mission Bay area of San Francisco will look like and contain on Wednesday. It's easy to make an idealized drawing of the building look good but… those look good (see more below). CSNBayArea.com has more details.
"We believe this plan is a perfect fit for Mission Bay, for San Francisco, and for the entire region," Warriors co-owner Joe Lacob said in a released statement. "Our goal is to not only build a world-class arena for our team and our fans, but also create a vibrant place that residents and visitors will want to enjoy, whether on game days or any other day."
From the press release, the arena will have:
• 18,064 seat multi-purpose arena
• More than 100,000 square feet of retail space, mostly food-oriented
• 3.2 acres of plazas and public space – approximately 30% of the total site
• A 35,000 square foot public plaza on 3rd Street, larger than Union Square
• A 24,000 square foot public plaza of open space on the southeast side of the project
• A view deck with newly opened vistas to San Francisco Bay
• Approximately 580,000 square feet of office/biotech/lab space
• Approximately 950 Parking spaces (in three concealed/underground levels)
• 300 spaces of permanent bike valet parking
If that doesn't sound like a lot of parking, the Warriors say it is more than their current Oracle Arena has. The project will be built on 11 acres of privately held property and still going through the approval stages with the city government.
Here are the other renderings.