Every night the NBA can be a cold hard reality — there are winners, there are losers. It's the nature of the game. We know you are busy and can't keep up with every game, so we're here to bring you the best and worst of the NBA each week night. Here's what you missed while sleeping on your bacon-scented pillow case…

Kyrie Irving. He was the best player on the court in the Cavaliers win in Madison Square Garden. Not only did he score 37 points on 12-of-18 shooting, but he also he hit the dagger shot late in the fourth. The Cavs were up one with coming out of a timeout with 16 seconds left in the game, Irving had the ball out top isolated on Iman Shumpert. Irving drove left and got around Shumpert, Amare Stoudemire rotated over to help and Irving shot over both and went high off the glass — with an impressive degree of difficulty — to hit the shot. It was that way all night for Irving, who got to the rim whenever he wanted and also was 3-of-6 from three.

Carmelo Anthony. He was just ice cold against LeBron James and the Cavaliers, shooting 4-of-19 from the floor. From our "a shot chart is worth 1,000 words" file, we bring you 'Melo's against the Cavaliers.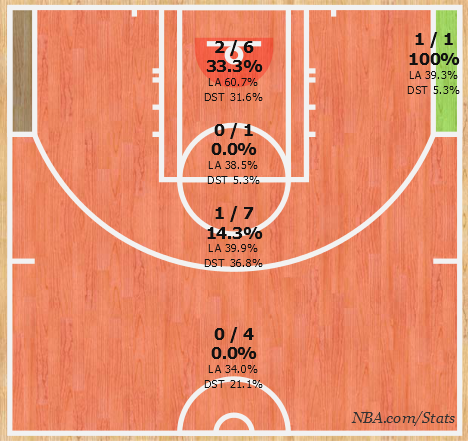 Klay Thompson. Yes he scored 23 points in the Warriors comfortable win over the Pelicans (who had 30 points from Anthony Davis while the rest of the team shot 32.9 percent). However why he's here is this amazing note from Sam Amick of the USA Today: