NEW YORK — Kyrie Irving officially became the newest member of the Nike Basketball signature family on Wednesday, when he was introduced to a small group of media members at an event held in an art gallery space in the Chelsea district of NYC.
A large amount of professional basketball players are endorsed by Nike, and proudly wear a wide variety of the company's shoes on the court. But getting the signature athlete treatment is the rarest of honors.
In the company's 42-year history, less than one percent of its endorsed athletes have been given a signature shoe. Irving joins Kobe Bryant, LeBron James and Kevin Durant as the only active NBA players to have achieved this distinction.
Before Irving was brought on stage, Anfernee Hardaway and Charles Barkley discussed what being a signature athlete had meant to them during their stellar professional careers. Barkley, wearing a brand new pair of purple Chuck Posites, called it the best business decision he ever made. And Hardaway, who was the centerpiece of one of the company's more popular ad campaigns, discussed how it's a lifelong relationship — one that still sees the release of signature models in his name more than six years after his retirement.
Once Irving was introduced, so was his first signature shoe — the Kyrie 1. And like all signature models, there are plenty of personal details that went into creating Irving's ultimate design.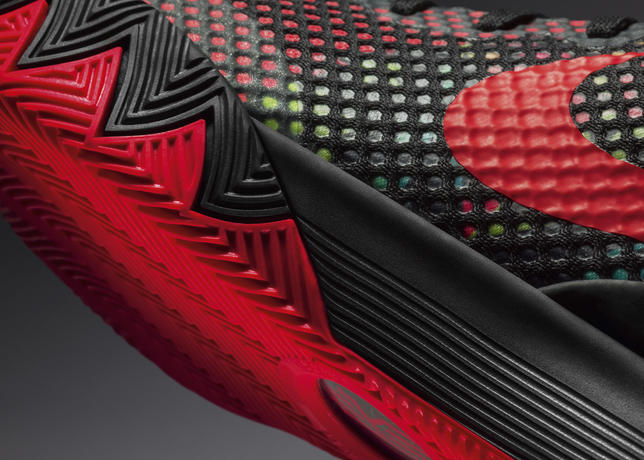 "I took this head on," Irving said. "Literally I was just like, man, I'm going to do it my way. Every meeting that we had, I wasn't trying to be the loudest, but I was trying to give them as much input on what I wanted. [Not only] because it has to be basically what I want and what I have to wear, but also [I wanted to give] input on what I think that the younger generation and the generation that's ahead of me would respond to. It's different colors, but also having the authenticity of the shoe and how comfortable it is and how it looks, but also, it dives deeper into the stories that are behind it."
Leo Chang, lead designer on this project and also the one responsible for designing Durant's latest model, shared one such story, which illustrates just how open Irving was during the early stages of the process.
"What's funny about this is that these two fingers that you see (pictured in black on the red shoe below), they're not only there for lockdown and forefoot fit — which is super-important, and something that Kyrie was telling us, that he didn't want any movement in that front," Chang said. "He wanted to be contained and locked down, so that came from a functional need.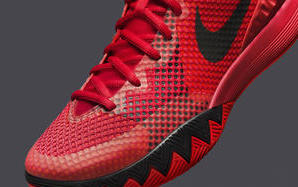 "But also, as we were talking a while back, he was telling us a story. It was him and his dad in a room with us, and he was saying, 'Whenever I used to do something bad or got in trouble, my dad would send me to my room — the dungeon we'd call it.' And his dad would make him lean against the wall with two fingers, and just stand there. And they were jokingly arguing between them — Kyrie was saying it was like two hours, and his dad was like no, it was two minutes. So that was pretty fun, and just a cool nod to lockdown, sending him to the dungeon. It's just a fun little story that I wanted to throw in there."
"Having this be the first shoe, and having him be this open this soon probably is something that is a little more rare," Chang said. "Sometimes it takes time to get to know these guys and get them to open up as much. We're thankful that he was that cool with us."
Other personal details featured in the design include a hand-written #2 on the upper heel, along with his signature on the inside of the tongue. The bottom of the shoe features his mother's name, birth and death dates (she passed away when Irving was just four years old), along with a JBY logo which stands for "Just Be You," Irving's mantra for how he conducts himself.
From a performance standpoint, the two keys in Irving's eyes were traction and forefoot lockdown. A small group of us got together for a late-night run to play in the shoes, and both of those elements were well above average. There's also excellent forefoot cushioning thanks to a Nike Zoom air bag, and Phylon foam in the heel to deliver cushioning upon impact.
The jagged traction pattern on the front of the shoe was inspired by the Sydney Opera House in Australia where Irving was born, and comes up over the side like that because in reviewing film of Irving's game, the designers noticed the way he drags his foot along the floor while in the process of making explosive moves to the basket.
There are two initial colorways scheduled to release: The Kyrie 1 Dream (Black, Multi-Color) will be available in North America on Dec. 23, and the Kyrie 1 Deceptive Red will be available globally on Jan. 10, 2015. Irving was wearing a Cavaliers-themed wine and gold colorway later on the night of the launch, and it sounds like there will be plenty more on the way as the season progresses.
"There are so many different stories and so many different colorways that are going to come out in the future that are going to be so crazy, and it's always going to have a story behind it," Irving said. "I think that kids really respond to having a connection with someone where (previously) they had no idea about it. I have a story to tell with all my colorways that are coming out, and I really can't wait to share them with everybody."
Irving debuted his shoes at Madison Square Garden on Thursday in a nationally televised contest against the Knicks — one in which he scored a game-high 37 points, and sealed the victory with a high-arcing, left-handed floater off the glass.
"That's what we do at Nike," LeBron James said afterward.