Every night the NBA can be a cold hard reality — there are winners, there are losers. It's the nature of the game. We know you are busy and can't keep up with every game, so we're here to bring you the best and worst of the NBA each week night… except tonight, in the holiday weekend spirit, we've got just winners. Here's what you missed while you try to get approval to build your own, real-life X-wing fighter….


Kobe Bryant. Twice. Kobe gets the double winner tonight. First there was his play on the court where once again he saves some his best games for destroying the Raptors (remember 81?). At the start of the game Toronto doubled him when he got the ball and Kobe picked up four quick assists setting up teammates (he's such a smart passer when he chooses to be, more on that in a paragraph). Toronto decided to go with single coverage and Kobe then hit his first four shots. And it was on. Bryant finished with 31 points, 12 assists and 10 rebounds leading the Lakers to a 129-122 overtime win against the Raptors. Kobe turned back the clock for the night. And destroyed Terrence Ross in the process.
Kobe's second win is because in the third quarter he picked up his career 6,000th assist on a nice little dish out to Wesley Johnson on the wing. Kobe is now the only player in NBA history to have more than 30,000 points and 6,000 assists. Some fans get stuck on him as an isolation heavy gunner, but he has an amazing basketball IQ and not only can pass but makes smart ones — he's playing chess out there and is a couple of steps ahead of the play. You see that when he dishes.
His reaction to the achievement: "It means I pass more than people say."

Carmelo Anthony. When he went out with back spasms less than a week ago it was feared he was going to miss considerable time. Turns out it was just two games, he got back out there on Sunday night against Miami, and he put up 31 points (on 11-of-26 shooting, he wasn't exactly efficient and did most of his damage from the midrange and 18 of his shots were contested). Derek Fisher didn't ease 'Melo back in, playing him more than 41 minutes. While there were moments he seemed a little stiff mostly he moved well and with him back the Knicks again showed some real grit and effort. Of course that wasn't enough — the Heat still won 86-79 — but still it's good to see Anthony back on the court.

Pau Gasol. The Bulls finally have their starting five together and everyone's getting to see what a great fit Gasol is with that group (and, Mike D'Antoni, you can see his still very effective when he gets the ball in his spots, not yours). Gasol had 25 points on 9-of-12 shooting plus 13 boards and, along with Jimmy Butler (26 points and was fantastic in transition) keyed the Bulls win over Brooklyn Sunday. Rather than describe Gasol's game, we'll go with the "one shot chart is worth 1,000 words" idea.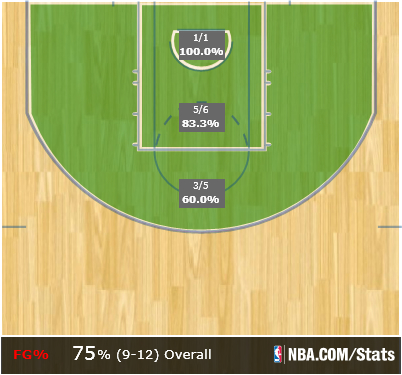 Draymond Green. Out of what was otherwise a business-like ninth straight win for the Warriors, we need to give Draymond Green a shoutout — he has been fantastic all season and was again Sunday. He gets overshadowed at times because, well, Stephen Curry/Klay Thompson, but he led the Warriors with 20 points on 7-of-13 shooting Sunday. Third time this season he's dropped at least 20. The real key: Green has started every Warriors game and with him that starting five unit is +28.7 points per 48 minutes (it's the same as per 100 possessions as GSW averages 100 possessions a game). When David Lee returns, Steve Kerr has to keep Green starting and bring Lee off the bench. Has to. Do not fix what already works.

Gerald Green. Because he can do this.

Reggie Evans. You remember him? The guy with the beard and the attitude? He's been buried on the Kings bench with nine straight DNP-CDs, then with DeMarcus Cousins out he got thrown in Sunday and put up a big line — 17 points on 7-of-10 shooting plus 20 rebounds. That's how you earn minutes. Not that it helped, the Grizzlies ground the Kings down and won their 15th, but good on Evans for showing why the vet should see more court time.