Rust? What rust?
Russell Westbrook looked like his explosive self old self in a 105-78 win over the Knicks on Friday night, coming back from a broken hand and 15 games off by putting up 32 points (on 12-of-17 shooting), seven rebounds and eight assists, all in 24 minutes. His performance sparked the Oklahoma City win. A sign there was no rust: Westbrook shot 10-of-13 on contested shots. Or, if you want another sign, check out Westbrook's shot chart: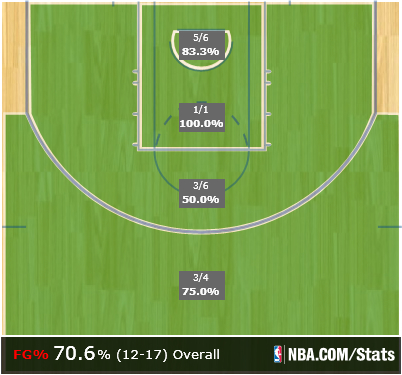 What really should make Thunder fans happy is the Thunder looked like the Thunder again. Sure, it was against the Knicks but the level of play from OKC was key. Westbrook was drawing the defense in and sharing, making nice skip passes, then every once in a while he'd just explode by his man and throw it down (as in the first dunk from the video above).
The Thunder have a lot of work to do make the playoffs out West, but they are back to being themselves. And that should scare teams.