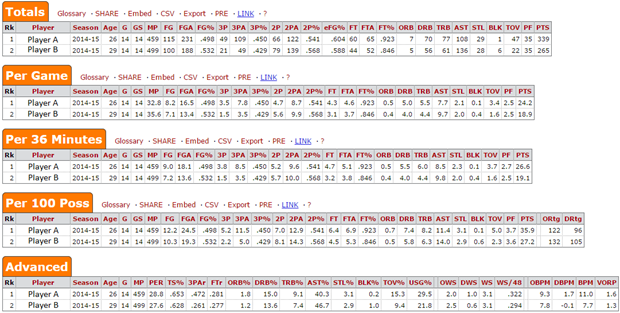 Which player is better?
I'd lean toward Player A based on only the stats, but Player B could certainly make a case. At minimum, these are two stars.
Player A is Stephen Curry, and Player B is Chris Paul.
One of the NBA's legendary point guards, Isaih Thomas, is unafraid to weigh in on the debate..
Diamond Leung of Bay Area News Group:
Announcement: Pro Basketball Talk's partner FanDuel is hosting a one-day $250,000 Fantasy Basketball league for Friday's NBA games. It's $25 to join and first prize is $20,000. Starts at 7pm ET on Friday. Here's the FanDuel link.
Curry, who has made marked defensive improvements, deserves credit for becoming a credible choice as the NBA's best point guard. Last season, the Warrior put himself in the conversation, but now his case has plenty of merit. He's probably having the best season of any point guard.
That said, I'm still taking Paul as the league's top point guard. He has such a long track record holding that title, a 14-game sample isn't enough for him to lose it.
Maybe by the end of the season Curry will have claimed the crown, but for me, it's too soon to downgrade Paul.