Every night the NBA can be a cold hard reality — there are winners, there are losers. It's the nature of the game. We know you are busy and can't keep up with every game, so we're here to bring you the best and worst of the NBA each week night. Here's what you missed while thinking about buying Don Corleone's home….

Kobe Bryant. This was vintage Bryant mentality: We're getting killed on defense, we need to flat-out just outscore this team, and I'm going to take that on. He finished with 44 points on 15-of-34 shooting, with three assists — that's fairly efficient compared to how he's played most of this season. But it's not going to be enough, certainly not against the Warriors. When the Lakers signed Bryant to that massive deal it was pretty clear what the plan was — rebuild, but rather than sell hope to fill the building they would sell Kobe. See the farewell tour where he has the ball in his hands and puts on a show. Sunday that show included him getting knocked down and getting back up. This was vintage Kobe Bryant mentality.

Lakers' defense. Golden State put up 136 points on 53.5 percent shooting overall and hitting 14-of-28 threes, which gave them an offensive rating of 128.4 points per 100 possessions. Which is ridiculously good. Thing is, we could put the Lakers' defense here just about every time they play. This is a bad defensive team that seems to find new lows. On the season now the Lakers have a defensive rating of 114.7, which is 3.8 points per 100 possessions worse than anyone else in the NBA this young season, and if they keep this up it would be the worst NBA defense since at least 2000.

J.R. Smith. We have a good J.R. Smith sighting — 28 points on 10-of-16 shooting, plus he had four rebounds and four assists. We know these kinds of efficient nights from him are about as rare as spotting a snow leopard, so we should savor them. With Iman Shumpert out Smith was inserted into the starting lineup Smith said he felt more comfortable in the offense, leading the team in touches (89). He got a lot of his buckets off a standard triangle action, throwing the ball into the high post then cutting off it and taking a handoff if there's space (he uses his step back off this). He had a couple where he just had to create late in the shot clock. But he was hitting shots, plus he was fairly disruptive on defense.

Denver's shooting in the second quarter. The Knicks win over the Nuggets was really one of those games where fans could ask, "Were the Knicks really good or were the Nuggets just that bad." In the second quarter, Denver was that bad. As evidence, here is their shot chart for the quarter.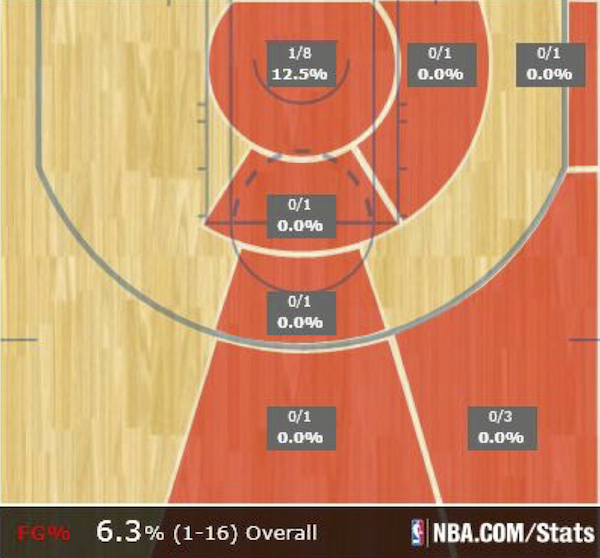 Giannis Antetokounmpo. He had a nice game, 11 points, 7 assists. So, why is he listed here as a winner. Because he did this, and he's been doing this a lot more this season.

Fans at Rockets, Thunder game. The game itself was exciting, going down to the wire and with Patrick Beverly and Scott Brooks both getting a little testy. But man the shooting was ugly. Your winning Houston team shot 28.8 percent while Oklahoma City shot 29.4 percent (combined the teams were 43-of-148). The Rockets were 10-of-30 in the restricted area. The teams were a combined 10-of-54 from three. You could try to put a positive spin on this and call it gritty, but mostly it was just ugly.