John Wall led the Wizards deeper into the playoffs than they've been since 1979, stepping up on and off the court.
Wall has even higher expectations for this season, so he wants to clean up any loose ends.
That means turning back to last year and examining how Washington handled lesser competition.
Wall, via Jorge Castillo of The Washington Post:
"I think any team that wasn't a playoff team, we didn't get up for, to be honest," Wall said
Editor's Note: Pro Basketball Talk's partner FanDuel is hosting a one-day $200,000 Fantasy Basketball league for Friday's NBA games. It's $25 to join and first prize is $20,000. Starts at 7pm ET on Friday. Here's the FanDuel link.
The Wizards went 28-13 against lottery teams, an above-average mark. In fact, Washington had the worst overall record among the 15 teams that performed best against lottery teams.
Really, Washington – an average 16-25 against playoff teams – beat up on lottery teams to secure its 44-38 record.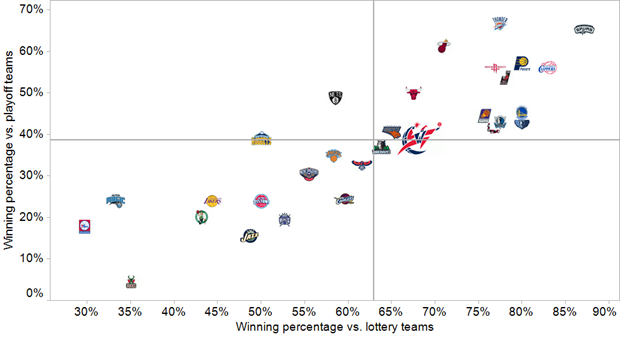 There are a few possibilities here:
1. Wall has selective memory, and he'd have bad outings to remember. The Wizards were the only playoff team to lose at home to both the 76ers and Bucks, the league's only sub-20-win teams.
2. Washington got up for some, but not all, lottery teams.
3. The Wizards, despite coasting against lottery teams, were still talented enough to beat many of them.
The truth probably lies somewhere in the middle.
Even if effort is only part of the equation, the Wizards can control that – and Wall wants to ensure they do.
So far this season, Washington is 6-0 against probable lottery teams – Magic, Bucks, Knicks, Pistons and Pacers (twice) – and 0-2 against probable playoff teams (Heat and Raptors). So far, so good, I guess.
The Wizards next big "test" comes Saturday against the lowly Magic.
RELATED: A CSN Mid-Atlantic subscriber? Watch Wizards-Magic LIVE online Saturday at 7 pm ET