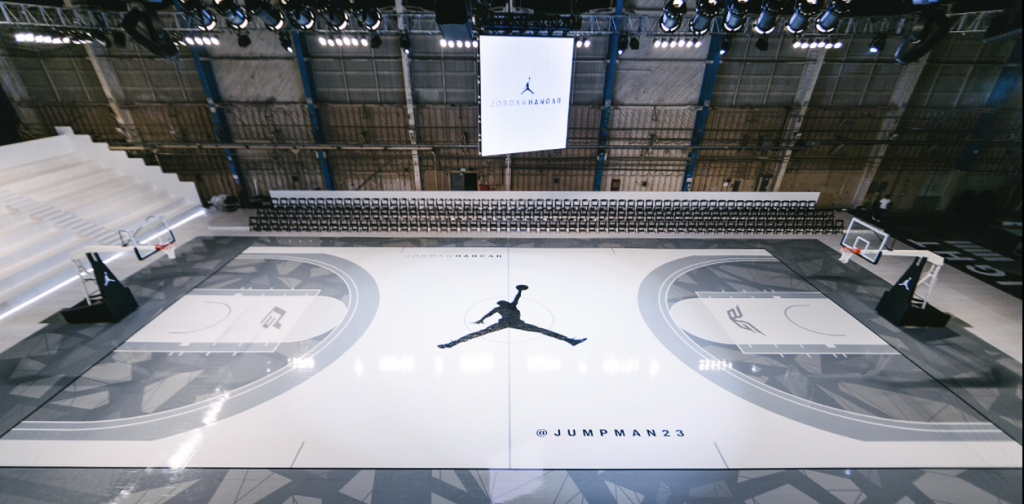 Jordan Brand unveiled its new private basketball space in West Los Angeles last week, and anytime you build something inside of an 80,000 square foot airplane hangar, the results are going to be extremely impressive.
The invitation-only space is intended to be a home for Chris Paul and Blake Griffin, similar to the way the Terminal 23 space in New York City is a place for Carmelo Anthony to call home, just steps away from Madison Square Garden.
Some of the more remarkable details of the space, officially dubbed the Jordan Hangar, are as follows:
– A full-size, regulation basketball court, with a stylized silver base and Jordan fractal pattern up and down the floorboards.  The brand's social/digital handle, @jumpman23, runs along the baseline, and CP and Blake's logos are featured in the paint between the basket and free throw line.  Sleek, light-colored, multi-tiered stands rise up beyond the far backboard; and, above the court – more than halfway to the 75-foot-high rafters – is a three-paneled jumbotron, with each panel measuring 100 square feet.  Along with featuring games between local high schools, Jordan said the court will be used by Jordan Brand players for offseason training as well as possible future product testing.
– Entering the Jordan Hangar, where the hashtag #takeflight in cement greets every high flier on the way in, guests walk down a mini Hollywood Blvd. Walk of Fame, with each Jordan Brand basketball athlete getting their own star.  On the wall in front as you turn into the open space: a white wall with artistic carvings of MJ's accomplishments.
– Two performance measurement elements stand out in the hangar as you walk toward the court.  The first is The Cube, a 10-foot high, four-sided box, with a video screen on each side.  Players can grab a ball and test their skills while mimicking the timed, repetitive on-screen drills performed by the athlete on-screen, all moves Chris Paul himself uses in-game – including his famous jab step and the beginnings of his crossover.  During the drill, a voice from the box counts down the time the player must continue that move, as well as hints on how to improve throughout.  Moving from The Cube toward the court is a runway, launch and landing pad measuring a player's jump, calculating the pounds of force generated on liftoff.  Through sensors on the pad, the information comes up within seconds on the screen.
– The Jordan Hangar also features two NBA-style lockerrooms with a dozen lockers each: one locker room for CP, another for Blake.  Each player has a dedicated locker, complete with golden nameplate, which are reserved solely for their use.  The locker room has a lounge with leather chairs, couches and a 75-inch flat-screen TV, set up for NBA 2K matchups.
Check out a video tour of the space by viewing the clip below.