LeBron James has never led the NBA in dunks.
Heck, he's never seriously threatened for the title.
But he has always finished in the upper echelon of the leader board. He has ranked Nos. 19, 8, 11, 11, 13, 7, 11, 15, 8, 5 and 7 in dunks during his 11 full seasons.
So, it's a little disconcerting to see LeBron with just three dunks in his first five games this season. That would be, by far, his fewest dunks per game in a season: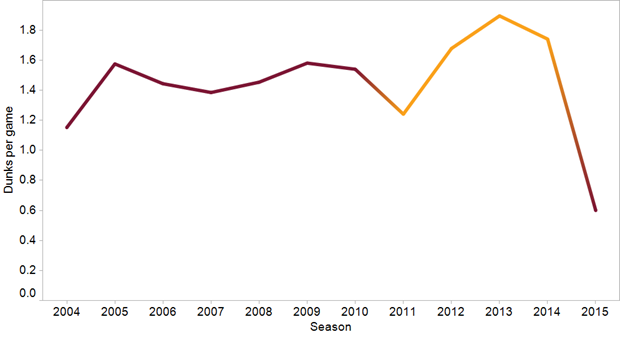 LeBron, via Joe Vardon of The Plain Dealer:
"I apologize I haven't been above the rim, but I'm in the lineup," James said with a grin, responding to a reporter's question after the Cleveland Cavaliers' morning shootaround. They play the New Orleans Pelicans at The Q Monday night. "Whatever it takes to help us win."
Before the season, LeBron said he can still fly above the rim. It hasn't shown so far.
Though he's obviously held to a higher standard, LeBron has looked much less athletic this year. Dunks are only one symptom of the issue, and it's showing in all parts of his game.
That said, we're just five games into the season. It's OK to show concern, but far too early to worry.
Hopefully, LeBron starts dunking more – and flashing his explosiveness in other areas too – soon.