BOSTON – Patrick Patterson – sent to Toronto in last year's midseason Rudy Gay trade – joined a team searching for an identity. The Raptors had missed the playoffs five straight seasons and were on track to make it a sixth. At that point, just two players had been on the roster longer than a season and a quarter.
There wasn't necessarily tension, but as Patterson tells it, all these new teammates needed a feeling-out period before becoming comfortable with each other.
As the Raptors won on the court – they went 41-22 after the midseason shakeup and won the Atlantic Division – they became closer off it.
This year, with nearly every key player back, Patterson said locker-room banter comes more naturally. Everyone knows where the lines are, which jokes are in bounds and which aren't. Players kid each about everyday situations, how people act…
"The shape of someone's head," Patterson said.
Wait. Whose head?
"Can't get into all that," Patterson said.
That's OK. These Raptors are candid enough about the significance of returning nearly their entire roster.
"Nothing has changed," Toronto coach Dwane Casey said. "Our schemes are the same. Our philosophy is the same. Our personnel is the same."
And their success is the same.
The Raptors, 4-1, sit atop the Eastern Conference, tied with the Bulls and Wizards.
Toronto assuredly won't keep winning at this clip, but with Kyle Lowry, DeMar DeRozan, Terrence Ross, Amir Johnson and Jonas Valanciunas starting again – and Patterson, Greivis Vasquez, Tyler Hansbrough, Chuck Hayes and Landry Fields back in reserve – the Raptors have an early season chemistry few teams can match.
John Salmons, Steve Novak and Nando De Colo are the only Raptors to appear in last year's playoffs who aren't back this year, and they ranked eighth, 12th and 13th on the team in postseason playing time. In all, Toronto returns 94 percent of its playoff minutes – second only to the NBA-champion Spurs, whose only departure (Damion James) never never saw the court in the postseason.
Of course, the Raptors' goal is not only to get a head start on clicking during the regular season. They want to go deeper in the playoffs than last season, when they fell in the first round.
Again, their familiarity should help.
In the previous five years, four teams returned five players who started at least 60 games from a team that lost in the first round. All four – the 2011-12 Spurs, 2011-12 76ers, 2010-11 Thunder and 2009-10 Spurs – advanced in the playoffs.
Obviously, there's a selection bias. Only teams that believe in their starters bring them all back. But that's the point. Toronto has a good general manager in Masai Ujiri, and he chose to keep this team intact.
Maybe Lowry deserves the most credit. A free agent this summer, he received interest from the Heat and Rockets before re-signing with the Raptors. But after taking care of his team's top player, Ujiri re-signed Patterson and Vasquez on player-friendly contracts in order to keep the core together.
Ujiri also added outside help by trading for Lou Williams in June. Shortly, after the deal, Williams was contacted about offseason training, a call he figured was coming from the coaching staff.
Instead, it was Toronto's players reaching out.
Soon, Williams joined a group that included Lowry, DeRozan, Hansbrough, Johnson and Ross in Las Vegas.
"Everybody was just hanging out there, kicking it, getting ready for the season," Williams said. "So, it really surprised me, the closeness of this group."
That closeness is paying immediate dividends, though it also comes with pitfalls.
No stat is more telling of the Raptors' cohesion than their-league best turnover percentage. They cough up the ball on just 9.5 percent of their possessions, a mark TWICE as good as five other teams. Even if that turnover percentage regresses to the mean as the season progresses, Toronto has shown impressive early ball control after ranking 10th in the category last season.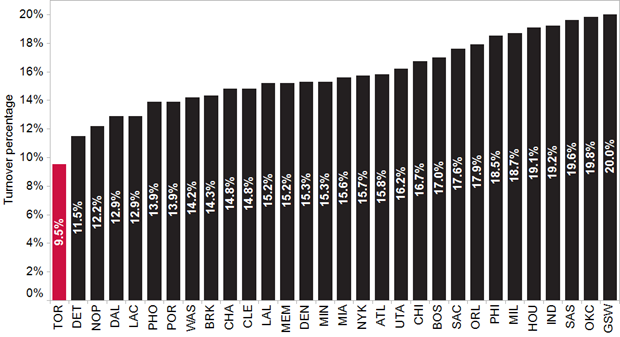 But there's a downside. Confident in what they can accomplish, the Raptors have dug themselves some early holes. In their last three games, the Raptors have fallen behind the Heat by 10, Thunder by 9 and Celtics by 16 in the first quarter. Still, Toronto rallied to two of those three.
"A lot of our toughness is self-inflicted," Casey said.
In the end, their familiarity and the confidence it generates have helped more than its harmed.
That was literally true last night in Boston. With the score tied in the final minute against the Celtics, Lowry stole the ball and raced up court. With only a brief glance in his direction, Lowry passed back to DeRozan, who completed an incredible dunk.
"That's our thing," DeRozan said. "Whenever we're on a fastbreak, he knows I'm trailing."
"I know DeMar is always going to trail me," Lowry said. "So, I just was hoping he was hurrying up."
Lowry downplayed of his team's continuity, saying it's a new team each season, but his partner on that pivotal play went the other direction.
"It's everything," DeRozan said, "because sometimes, that chemistry can beat out a more talented team."
Barring injury, a lineup change or trade, Toronto will have the same starters in consecutive seasons for just the second time in franchise history.* Everyone expects this is the group Ujiri and Casey will roll with.
Jose Calderon, Anthony Parker, Jamario Moon, Chris Bosh and Andrea Bargnani led Toronto in starts in 2007-08 and 2008-09.
The Raptors' chemistry has led to early success, but the real test comes later. For now, a strong start is enough to make them believe.
"Last year, we had some changes during the season, so we tried to put all the pieces together. Now, we have all the pieces together, and we had some players experience – a lot of guys without it – playoff experience," Valanciunas said. "So, no we can go. We're ready."