Every night the NBA can be a cold hard reality — there are winners, there are losers. It's the nature of the game. We know you are busy and can't keep up with every game, so we're here to bring you the best and worst of the NBA each week night. Here's what you missed while watching Kendrick Lamar perform before the Cavs game…

Russell Westbrook and Oklahoma City Thunder. I don't know what the Thunder players did in their past lives to bring this kind of injury Karma with them this season, but it must have been nasty. They key for the Thunder is they are now 0-2 on the young season and the next month or so is going to be rough. Russell Westbrook hurt his right hand in the second quarter, going up for a rebound he seemed to catch his hand in the jersey of Kendrick Perkins (or somehow make contact) and after that he took himself out of the game not to return. Not sure how long he'll be out but with Kevin Durant, Reggie Jackson, Jeremy Lamb among others the Thunder are getting short of bodies. Bottom line if you have to play Sebastian Telfair 37 minutes you are in trouble in the NBA (although to their credit the Thunder fought hard to stay in it and were not blown out).

The New York Knicks. I'll take some crow. Thursday afternoon I wrote the Knicks were the sacrificial lamb to the LeBron James homecoming show. New York was simply a role player. Except they refused to be. Carmelo Anthony led the way with an efficient night on the second game of a back-to-back — 26 points with a true shooting percentage of 62 percent (he was 7-of-10 on uncontested looks, that he got 10 clean shots speaks to the Cavs defense), plus 'Melo dished out 6 assists, and he hit the dagger with LeBron James in his face. They moved the ball, with assists on 3o of their 37 buckets. The Knicks as a team had an offensive rating of 110.6 on the night. Give credit where it's due, the Knicks refused to play the role of patsy and picked up a nice win.

LeBron James. He was tight. He clearly felt the expectations and the hype in Cleveland — they had street parties going on in downtown, there were concerts, the stars were out, Nike had a new ad, and the city was there for a coronation. LeBron clearly felt the weight of all of it. He was 5-of-15 shooting, he had four assists and eight turnovers. Look at this shot chart: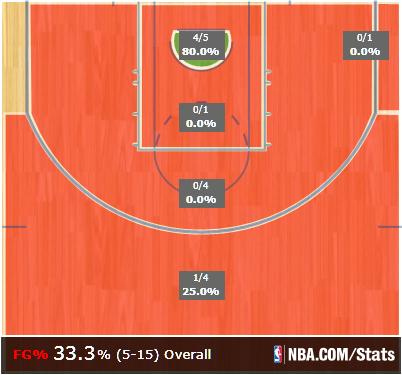 It doesn't mean anything going forward. He's still the best player on the planet, the Cavaliers are still title contenders. But for one night, a big night, LeBron simply was not good.

City of Cleveland. Sure, the Cavaliers lost when nobody expected them to. So what? Good teams lose to bad teams (remember the second game of last season the Heat lost to the 76ers). The fact of the matter is Cleveland is back — on the court and off. Thursday was more than a celebration of LeBron, it was a celebration of home. Of Cleveland. LeBron returned and brought energy and excitement with him. This is going to be a great season and this one game means nothing in the grand scheme of things.

John Wall, Washington Wizards. While everyone else was watching Cleveland, Wall went out and put up elite point guard numbers — 30 points on 21 shots, with 11 of those points coming in a strong third quarter for Washington (one where Wall was active on defense and took a charge). Down the stretch is was Wall and Paul Pierce making plays to get Washington another win. If Wall keeps playing like this they will pick up a lot of them.