New Cavaliers coach David Blatt said he planned to reduce LeBron James' playing time this season.
Not yet, though, apparently.
LeBron played 43 minutes in the Cavaliers' loss to the Knicks yesterday. So did Kyrie Irving. Kevin Love and Dion Waiters both played 38 minutes.
Though it's obviously a small sample just one or two games into the season for each team, Cleveland – by a fairly wide margin- has given the highest percentage of its minutes to starters thus far.
Here's the league wide breakdown, starters in wine and reserves in gold: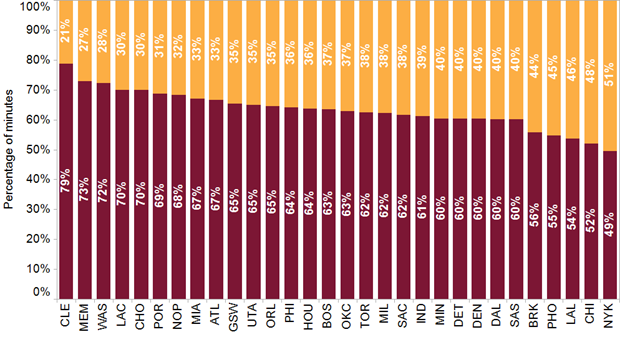 On the flip side, this means Blatt used Cleveland's reserves very little.
Shawn Marion played just 10 minutes in the Cavaliers' opener, and Mike Miller played only three.
Blatt, via Dave McMenamin of ESPN:
"It wasn't by design; it was flow of the game," Blatt said. "That's on me. Those guys need to play more."
Like many first-time NBA head coaches, Blatt coached his team in summer league. One of the biggest benefits is getting a chance to practice managing a rotation.
But it's understandable – in a game LeBron called "one of the biggest sporting events that's up there ever" – Blatt would lean on his stars more than he intended.
If anything, that strategy increased Cleveland's chances of winning that specific game. Obvious analysis alert: Playing your best players more than your lesser players makes your team better.
However, in the long run, it's helpful not to overburden your starters.
As last night showed, the Cavaliers need to improve in a number of areas. Blatt handling his subs is one of them.