Few, if any, duos have defined a team's presence in a city like Kevin Durant and Russell Westbrook with the Thunder.
Since the franchise moved to Oklahoma City, Durant and/or Westbrook has played in 550 of the Thunder's 551 games including playoffs
The lone exception, a win over Boston last January, will soon have plenty of company.
Durant is out with a fractured foot, and Westbrook broke his hand. Oklahoma City will have to play many games without its two stars – a big adjustment.
In fact, seeing the Thunder play at all without Durant and/or Westbrook is a rare sight.
As the Oklahoma City Thunder, they've played 85 percent of their minutes with at least one of Durant/Westbrook on the court.
Here's the breakdown
Just Durant: dark blue
Just Westbrook: light blue
Both: orange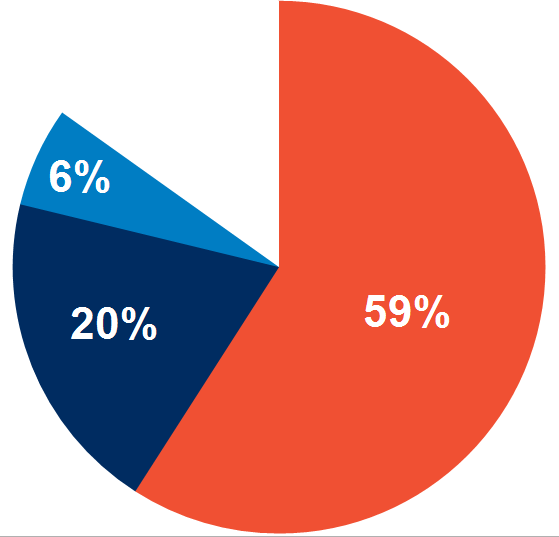 Westbrook's and Durant's injuries come at an especially bad time considering Reggie Jackson, Jeremy Lamb, Anthony Morrow, Mitch McGary and Grant Jerrett are also hurt.
Oklahoma City will have a lot to overcome in all facets, but scoring will be a particular problem.
Serge Ibaka, who averaged 15.1 points per game last season, is the clear leader among healthy Thunder, but he's ill-equipped to serve as a No. 1 option. Last season, 80 percent of his field goals were assisted.
After Ibaka, no healthy Thunder averaged more points per game last season than Nick Collison – 4.2. Woof.
Kevin Pelton of ESPN used a statistical formula to project Oklahoma City's offense without Durant and Westbrook, and the Thunder rated ahead of only the 76ers, who are sporting a glorified D-League roster.
Comparisons to Philadelphia should trouble Oklahoma City, which still hopes to compete for home-court advantage in at least one round of the playoffs. Really, if Durant and Westbrook miss too much time, the 0-2 Thunder could fall into a deep enough hole that even reaching the postseason becomes questionable in the loaded West. (I wonder whether Oklahoma City general manager Sam Presti regrets rallying owners to reject a proposal that would have made it much more likely the best lottery teams receive high picks.)
The Thunder, considering their recent success, have stocked themselves with an incredible amount of young talent. Perry Jones has impressively stepped up in place of Durant, scoring 32 points in a loss to the Clippers yesterday.
But this is still Durant's and Westbrook's team, just as it has been since arriving in Oklahoma City.
The Thunder have a strong identity. They're just playing without the players who define it.
These next few weeks will be a huge challenge.