The NBA is full of talent, personality and suspense. During the offseason, It's easy to forget how wonderful the league can be. So, I've assembled 67 Reasons I'm Excited For Next Season (67RIEFNS). They'll be presented in no particular order.
The Thunder have won playoff series in 2011, 2012, 2013 and 2014 – a noteworthy feat, to be sure. But they're hardly alone.
Since the NBA adopted its current eight-team-per-conference playoff format, 52 teams have won a postseason series four consecutive years .
What sets Oklahoma apart is the number of first-round picks accumulated during this span. While most contending teams are drafting low, where finding quality prospects is more difficult, and/or trading picks for immediate help, the Thunder are going the opposite direction.
Here are the number of first rounders each of the 52 teams have acquired – either by drafting them directly or through trade prior to the season – during their four-year run of playoff success: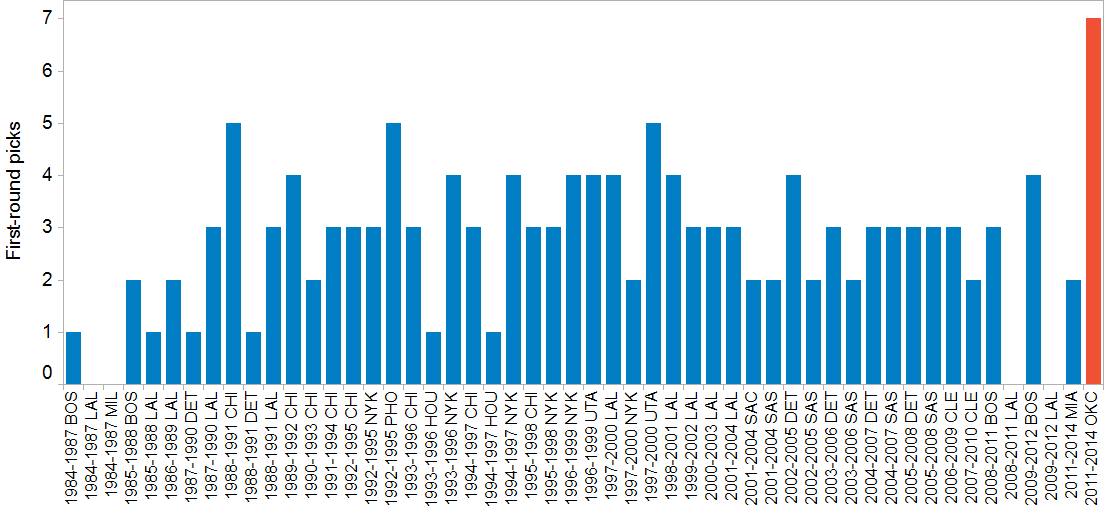 In the last four years, the Thunder have drafted or acquired before their debut:
2014: No. 21 Mitch McGary, No. 29 Josh Huestis
2013: No. 12 Steven Adams, No. 26 Andre Roberson
2012: No. 12 Jeremy Lamb, No. 28 Perry Jones
2011: No. 24 Reggie Jackson
Oklahoma City still has the rights to all seven, though Huestis is in the D-League.
Now, more than ever with Kevin Durant injured, the Thunder need these young players to step up.
Adams, Jones and Roberson will start to begin the season.
Adams supplanting Kendrick Perkins is a big deal. The younger center is frankly the better player now, and the Thunder will be better of in the long run once they develop chemistry with Adams.
Roberson can be a tough defender in the Thabo Sefolosha mold, though if Oklahoma needs more scoring, Reggie Jackson – injured to begin the season – could supplant him next to Russell Westbrook in the backcourt.
It would be easier to start Jackson if the Thunder can rely on Lamb to lead the second unit. Lamb is a streaky scorer who must either become more reliable in that department or develop a better all-around game, especially defensively.
Jones is likely just a place-holder in the starting lineup until Durant returns, but maybe major minutes will help his confidence. His athleticism and raw talent are eye-opening, but that's been the case for a few years now.
If Perkins, one of the NBA's most ineffective players last year, is headed down the depth chart, maybe McGary can pass him, too. Though McGary is just a rookie, there's a chance he's already better than the aging Perkins.
There's a lot to like in this group, which was bolstered by the James Harden trade. That deal sent Lamb and the draft pick that became Adams to the Thunder. Not only has Oklahoma City drafted well with its own picks late, few contenders add lottery picks in consecutive years.
But not many contenders trade a player the caliber of Harden, either.
The Thunder have chosen their path, and it's netted them an intriguing mix of young talent. Now, they must maximize it.