The NBA is full of talent, personality and suspense. During the offseason, It's easy to forget how wonderful the league can be. So, I've assembled 67 Reasons I'm Excited For Next Season (67RIEFNS). They'll be presented in no particular order.
Kevin Love might be the best player ever to miss the playoffs his first six seasons. The way the Cavaliers were going, Kyrie Irving was on pace to join the discussion.
Obviously, playing for the Cavaliers with LeBron James, Love and Irving will break that trend this season. That, in itself, is a good thing. It's fun to see the NBA's stars playing such meaningful games.
But just how much can two players without any postseason experience help in late April and beyond?
Since the NBA adopted its current eight-teams-per-conference playoff format in 1984, 47 teams have reached the playoffs with at least two of its top three players (judged by win shares) lacking postseason experience. Of those 47, just three have reached the conference finals (players without postseason experience marked with asterisk):
1989 Suns (Kevin Johnson*, Tom Chambers, Jeff Hornacek*)
2002 Celtics (Paul Pierce*, Antoine Walker*, Tony Battie*
2007 Jazz (Carlos Boozer*, Mehmet Okur, Deron Williams*)
Those might seem like low odds, but consider: Teams led by players lacking playoff experience usually aren't that good to begin with. Many just sneak into the playoffs with a low seed.
On a whole, the playoff teams with at least two top players making their postseason debuts actually advanced further than their seed would have projected. Here are all 47 such teams with their expected number of playoff series (gold) and actual number of playoff series (wine):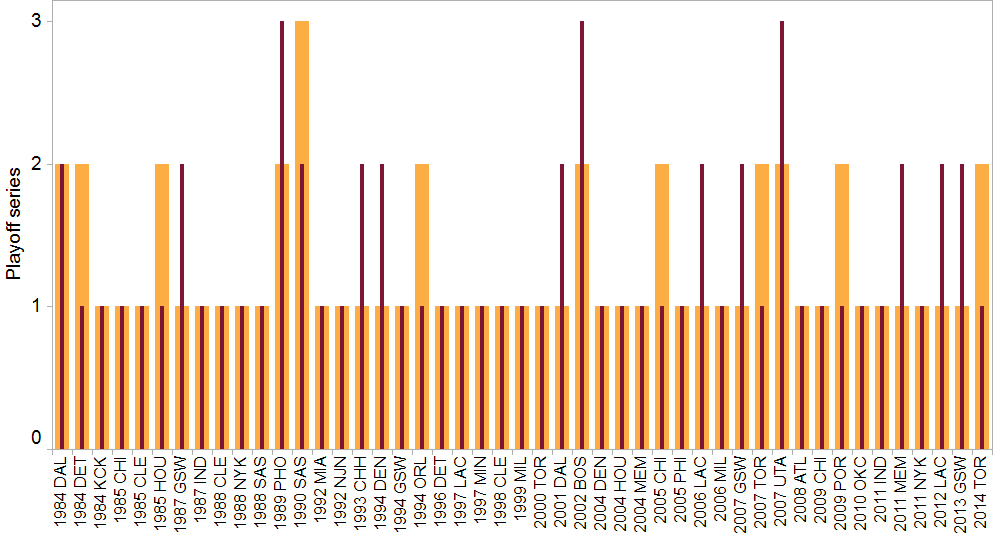 Click to enlarge
2014 TOR: Kyle Lowry, DeMar DeRozan*, Jonas Valanciunas*
2013 GSW: Stephen Curry*, David Lee*, Carl Landry
2012 LAC: Chris Paul, Blake Griffin*, DeAndre Jordan*
2011 NYK: Amar'e Stoudemire, Landry Fields*, Danilo Gallinari*
2011 MEM: Zach Randolph, Marc Gasol*, Mike Conley*
2011 IND: Danny Granger, Josh McRoberts*, Mike Dunleavy*
2010 OKC: Kevin Durant*, Jeff Green*, Russell Westbrook*
2009 POR: Brandon Roy*, LaMarcus Aldridge*, Joel Przybilla
2009 CHI: Ben Gordon, Joakim Noah*, Derrick Rose*
2008 ATL: Josh Childress*, Joe Johnson, Josh Smith*
2007 UTA: Carlos Boozer*, Mehmet Okur, Deron Williams*
2007 TOR: Chris Bosh*, Anthony Parker*, Jose Calderon*
2007 GSW: Andris Biedrins*, Baron Davis, Monta Ellis*
2006 MIL: Michael Redd, Andrew Bogut*, Bobby Simmons*
2006 LAC: Elton Brand*, Sam Cassell, Chris Kaman*
2005 PHI: Allen Iverson, Kyle Korver*, Andre Iguodala*
2005 CHI: Tyson Chandler*, Kirk Hinrich*, Eddy Curry*
2004 MEM: James Posey*, Pau Gasol*, Shane Battier*
2004 HOU: Yao Ming*, Cuttino Mobley, Steve Francis*
2004 DEN: Andre Miller*, Marcus Camby, Carmelo Anthony*
2002 BOS: Paul Pierce*, Antoine Walker*, Tony Battie*
2001 DAL: Dirk Nowitzki*, Michael Finley*, Steve Nash
2000 TOR: Vince Carter*, Tracy McGrady*, Antonio Davis
1999 MIL: Ray Allen*, Glenn Robinson*, Ervin Johnson
1998 CLE: Wesley Person, Zydrunas Ilgauskas*, Brevin Knight*
1997 MIN: Kevin Garnett*, Tom Gugliotta*, Dean Garrett*
1997 LAC: Loy Vaught, Bo Outlaw*, Darrick Martin*
1996 DET: Grant Hill*, Otis Thorpe, Allan Houston*
1994 ORL: Shaquille O'Neal*, Nick Anderson*, Anfernee Hardaway*
1994 GSW: Latrell Sprewell*, Chris Webber*, Billy Owens
1994 DEN: Dikembe Mutombo*, LaPhonso Ellis*, Bryant Stith*
1993 CHH: Larry Johnson*, Alonzo Mourning*, Muggsy Bogues
1992 NJN: Drazen Petrovic, Derrick Coleman*, Mookie Blaylock*
1992 MIA: Glen Rice*, Grant Long*, Rony Seikaly*
1990 SAS: David Robinson*, Terry Cummings, Willie Anderson*
1989 PHO: Kevin Johnson*, Tom Chambers, Jeff Hornacek*
1988 SAS: Alvin Robertson, Johnny Dawkins*, Frank Brickowski*
1988 NYK: Patrick Ewing*, Mark Jackson*, Bill Cartwright
1988 CLE: Mark Price*, Brad Daugherty*, Hot Rod Williams*
1987 IND: Steve Stipanovich*, Vern Fleming*, Wayman Tisdale*
1987 GSW: Sleepy Floyd*, Larry Smith*, Chris Mullin*
1985 HOU: Hakeem Olajuwon*, Rodney McCray*, Ralph Sampson*
1985 CLE: World B. Free, Phil Hubbard*, Roy Hinson*
1985 CHI: Michael Jordan*, Orlando Woolridge*, Steve Johnson*
1984 KCK: Eddie Johnson*, LaSalle Thompson*, Larry Drew*
1984 DET: Bill Laimbeer*, Isiah Thomas*, Kelly Tripucka*
1984 DAL: Rolando Blackman*, Mark Aguirre*, Brad Davis*
Unlike many of those teams, the Cavaliers will actually be very good. Maybe Love's and Irving's inability to reach the postseason reveals defects in their games, but more than anything, I think it speaks to how poorly their franchises had built teams around them. With them – and LeBron – now joining forces, that has obviously changed.
Love and Irving will finally reach the playoffs. Once there, there's no good reason to believe they can't contribute to the Cavaliers advancing deep.