The NBA is full of talent, personality and suspense. During the offseason, It's easy to forget how wonderful the league can be. So, I've assembled 67 Reasons I'm Excited For Next Season (67RIEFNS). They'll be presented in no particular order.
Since Tim Duncan made his NBA debut in 1997, he's had 129 teammates. In that span, 1,587 players have played in the NBA. Four teams have changed cities, and another franchise came into existence altogether.
Meanwhile, Duncan keeps playing his game.
Duncan will go down as not only one of the greatest players of all time, but one of the most consistent. His points (black) and rebounds (silver) per 36 minutes are as close to a straight line as possible over a 17-year career.
You can count on Duncan for some nifty moves from the high and low posts, tremendous defense and a prominent role on a championship contender. Same now as it always was.
Somehow, the 38-year-old has defied aging. There's little reason to suspect Father Time will defeat him now, though there are small cracks in the foundation.
Duncan posted a career-low PER of 21.4 last season. That ranked No. 21 among qualified players, just ahead of Dwight Howard, who's nearly a decade Duncan's junior. Still, it was a career low.
But it also moved Duncan closer to another career achievement – most seasons with a PER of at least 20. If he hits the mark this season, he'll pass Kareem Abdul-Jabbar for sole possession of first place.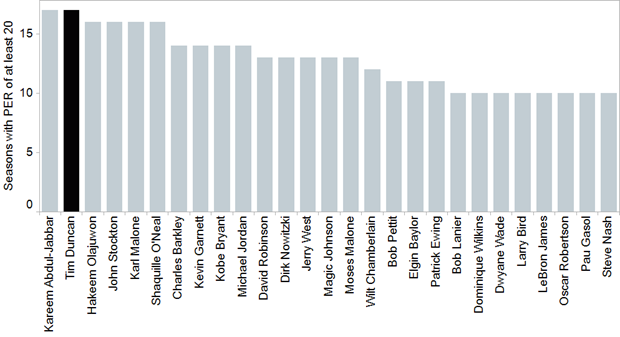 Duncan is closer to the end of his career than the beginning (I think). Retirement questions are increasingly frequent, especially because Duncan is on the final year of his contract. Some day, his great career will end, and he'll head to the Hall of Fame.
For now, I'm still enjoying watching him on the court.