The NBA is full of talent, personality and suspense. During the offseason, It's easy to forget how wonderful the league can be. So, I've assembled 67 Reasons I'm Excited For Next Season (67RIEFNS). They'll be presented in no particular order.
Who's the best point guard in the NBA?
Every time that question gets asked, it's an insult to Chris Paul.
I never understood the Paul-Deron Williams debate other than they went back-to-back in the draft. Now that Williams has fallen off, other point guards don't make as much noise. The most intriguing challengers – Russell Westbrook and Derrick Rose – haven't stayed healthy enough to seriously threaten Paul's reign. Stephen Curry is an intriguing contender, but defense works soundly against him. Tony Parker deserves credit for his four championships, but those have as much to due with being at the right place at the right time as Parker's own skills, and his other attributes don't hold up to Paul's. Maybe Damian Lillard, Kyrie Irving or John Wall could get there some day, but they're not close now.
Paul is the best point guard since Magic Johnson.
The Clipper controls the game offensively as a scorer and passer. He can both drain jumpers and get to the rim, throw alley-oops and find the open man with a simple pass. It's a pick-and-roll league, and nobody runs the play better.
Defensively, Paul has slipped a bit as a stopper. Maybe it's aging, or maybe he's concentrating too much on flopping. But he's still well above average, and he excels at getting steals. Steals are underrated, because they always end an opponent's possession (unlike blocks) and often lead to high-efficiency fastbreaks (unlike defensive rebounds).
Paul isn't an elite athlete, but he has amazing basketball intelligence, and he's athletic enough to let his skills shine.
Since Magic, here are the top 15 point guards by win shares per season. The purple-and-yellow bar represent's Magic's career mark.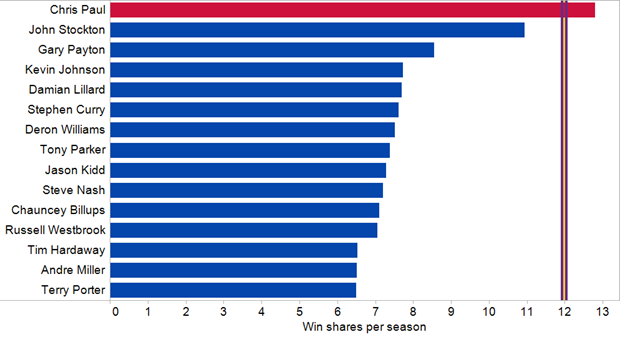 Win shares are not a perfect stat, and Paul's numbers are inflated by the latter, presumably lesser, yet-to-be-played seasons of his career not bringing down his average. But he's No. 1 by a decent margin – ahead of even Magic's career mark.
Paul's ranking certainly matches my eye test.
The most glaring hole in his resume is his lack of postseason success, and that deserves scrutiny. Paul has never made even the conference finals.
But I'm not ready to demonize a 28-year-old for failing to win a championship. Paul has time. If he retires without a title, that would carry more weight – though only one of the next top six on that chart has won a title, and Gary Payton got his as a backup with the Heat.
If Paul isn't the NBA's best point guard this season, it's extremely likely one of three things has happened:
1. Paul got hurt.
2. Westbrook – with Kevin Durant out – capitalized on his athletic advantage and took the next step.
3. You're picking the NBA's best point guard wrong.