As I described earlier today, Klay Thompson – if he's guaranteed a max contract on his next deal, which we'll assume for argument's sake – faces the choice between:
1. $89,138,886
2. $4,433,683 with the prospect later of up to $91,428,795 (if he leaves the Warriors) or $121,667,219 (if he stays)
Let's add one more:
3. $31,702,439 with the prospect later of up to $93,864,774 (if he leaves) or $126,398,700 (if he stays) with $16,897,632 in "insurance" if he can't get more later
The catch? Plan No. 1 guarantees Thompson the large contract now. Plan No. 2 would in 2016, and Plan No. 3 wouldn't kick in with the large salary until 2017.
How long is Thompson willing to risk it?
One real option, I'm told, is Thompson pursuing an offer sheet from a new team modeled after the loaded three-year contract structure Chandler Parsons scored from Dallas this past summer.

Which is to say that Thompson, were he to pull a Parsons and sign a three-year deal with a player option to return to free agency in Year 2, would be setting himself up to hit the open market as an unrestricted free agent in 2017… at the exact same time as Splash Brothers sidekick [Stephen] Curry.
Here are Thompson's key options:
Extension (black)
Qualifying offer and signing elsewhere in 2016 (blue)
Qualifying offer and re-signing in 2016 (yellow)
Various spinoffs of the "Parsons" plan* – which begins with rejecting an extension and then signing a three-year offer sheet with a player option in 2015 (green)
Years in the chart refer to the final year of a season, so 2016 is the 2015-16 season.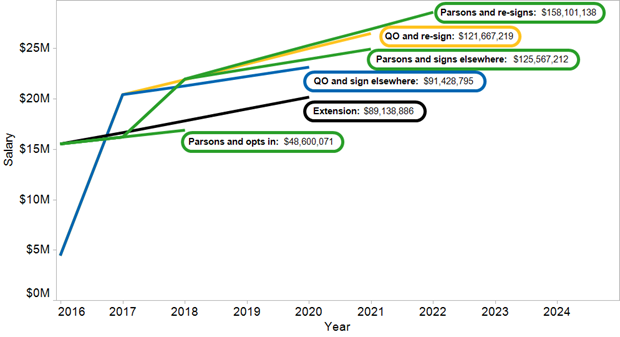 *Parsons signed for slightly less than the max. I give Thompson the max in scenarios where he signs a three-year offer sheet with a player option.
The biggest difference between Parsons' offer sheet and one Thompson could sign is that the second-year of Thompson's will leave him on an old-TV-contract deal during the first year of the new, big TV contract. Parsons can hit free agency right when the cap skyrockets.
If Thompson does anything other than accepting an extension by the Oct. 31 deadline, he's taking a risk. He just must decide how large a risk he wants to take.
Signing the qualifying offer positions him to make a lot of money beginning in 2016. Signing a Parsons-style offer sheet gives him more security in 2015 and offers potential for an even larger payout than the QO route in 2017, but the longer the delay, the more uncertainty.
The "Parsons" plan could be a happy medium – or just a way to convince the Warriors to offer a max extension now and avoid a scenario where Thompson and Curry hit free agency at the same time.
Any 2015-16 numbers are based on the NBA's projected salary cap. All future years are based on my projection of future salary caps.