As the age-old saying goes, $89,138,886 in the hand is better than $121,667,219 in the bush.
The Warriors and Klay Thompson are negotiating a contract extension, and the shooting guard said he'd prefer to reach a deal now rather than waiting to sign a new deal under a higher salary cap created by the new national TV contracts.
Is Thompson right to push for an extension now?
He'll make $3,075,880 this season, the final year of his rookie contact. It's his salaries for future seasons that are in flux.
An extension would begin in 2015-16, and if he doesn't sign one, he'd become a restricted free agent next summer. However – unless the NBA enacts more-drastic cap smoothing – the salary cap won't rise drastically until the 2016-17 season, the first of the new TV deals. That means Thompson, if he dares to wait for a long-term contract until the cap skyrockets, is basically committing to two more seasons – including this one – of a low salary.
Let's start with the simple solution: Thompson signs an extension before the Oct. 31 deadline. A max extension, based on the NBA's projected 2015-16 salary cap, would pay $89,138,886 over five years.
I don't know whether Thompson can command the max, but the Warriors kept him rather than trading for Kevin Love. Thompson should at least ask – and considering how much more he could earn by delaying a long-term deal, they might say yes.
If Thompson doesn't accept an extension, he could always re-sign next summer for up to the same amount a max extension would pay. If Thompson plans to do that, he might as well just push for the extension now.
But becoming a free agent next summer could bring more-lucrative opportunities.
In order to make Thompson a restricted free agent, Golden State would have to extend him a qualifying offer, a standing one-year contract offer. Thompson's qualifying offer is slated to to be $4,210,880. But if he starts one game or plays 1,132 minutes – both of which would be, by far, career lows – he'll meet the starter criteria and would be eligible for a larger qualifying offer of $4,433,683. Obviously, I project he'll do that.
The Warriors play the Kings on Oct. 29, so Thompson could start that game and know he'd know he's met the starter criteria before the extension deadline of Oct. 31. I doubt that would mean much to him, but it ever-so-slightly minimizes his risk.
As for the upside? That would come in 2016 after his year on the qualifying offer. With the cap projected to rise as the new TV deals kick in, many teams will have cap room, and salaries will soar.
Here's the max amount Thompson could earn – using my cap projection for 2016-17 – by:
Signing an extension (black)
Signing a qualifying offer in 2015 and then signing elsewhere in 2016 (blue)
Signing a qualifying offer in 2015 and then re-signing in 2016 (yellow)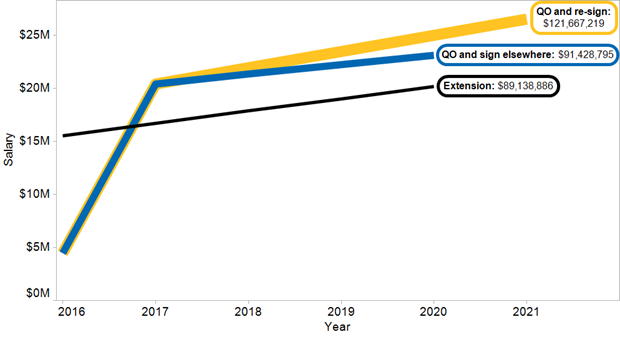 Year
Extension
Qualifying offer
and sign elsewhere

Qualifying offer and re-sign

2015-16
$15,502,415
$4,433,683
$4,433,683
2016-17
$16,665,096
$20,388,441
$20,388,441
2017-18
$17,827,777
$21,295,332
$21,917,574
2018-19
$18,990,458
$22,202,224
$23,446,707
2019-20
$20,153,139
$23,109,115
$24,975,840
2020-21
$26,504,973
Total
$89,138,886
$91,428,795
$121,667,219
If Thompson can get a max offer in 2016, he should reject an extension and sign the qualifying offer to become a free agent then. He doesn't even need a max deal from the Warriors – who can provide a fifth season and larger annual raises (7.5 percent vs. 4.5 percent) than other teams – to come out ahead. If Thompson leverages any teams into a max offer, he fares better than he would have on a max extension now.
Of course, nobody knows whether Thompson can get a max contract in 2016.
Only Thompson can decide for himself which course is best. An extension is the only way to secure huge money now, but waiting could bring a bigger payout.
This probably won't affect his decision, but the higher Thompson's salary in the final year of his deal, the higher his max salary could be in his following contract. That's because free agents can always sign for 105 percent of their previous salary. So, holding off on a long-term deal could mean Thompson is eligible for even more money on his second long-term deal.
Is Thompson a star worthy of a max contract, let alone a megastar worthy of two in his career?
It's rare a player turns down his first big guaranteed payday in order to chase a bigger deal later, but a national TV deal of this size is unprecedented. The game has changed, and as a result, even a max contract extension is no longer guaranteed to be the optimal financial path.
I understand Thompson's inclination to take the money now, but if he does that, he should make sure the Warriors give him all of it. Max extension or bust.