Former Microsoft CEO Steve Ballmer bought the Los Angeles Clippers from Donald Sterling this summer, and everybody is really excited about it. Blake Griffin praised Ballmer's enthusiasm in today's Players Tribune essay, and now that the NBA season is about to kick off, Ballmer is set to appear on the cover of Bloomberg BusinessWeek. Wearing a Clippers jersey.
It's a pretty great cover, and it comes with its own infographic website detailing how the cover came to be: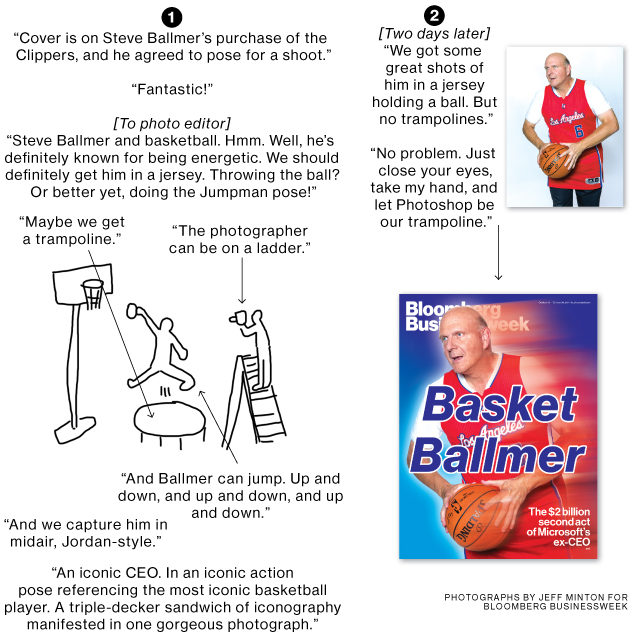 The cover story is also online, and it details how Ballmer contemplated making a bid for the Milwaukee Bucks before the Sterling scandal broke:
The Bucks didn't seem like much of a prize, until Ballmer realized that Milwaukee was closer to Seattle than all but seven other NBA cities. He flew there and took a six-hour chauffeured tour of the city. "I can tell you the suburbs and where they are," he says. "I can tell you where the malls are. I can tell you who's good in high school basketball. I can tell you where I would have lived. I went to a game, flew home, and figured out what it was going to feel like to fly home after a game that ended at 10, 10:30 at night."

Not long after that visit, while Ballmer was still contemplating a regular commute to Wisconsin, TMZ dropped the Sterling tapes, and the Clippers were in play. Once Ballmer decided to buy the team, he moved fast. The Clippers were in the playoffs, so he rerouted his plane from a golf trip in Arizona and rushed to a game in L.A. to get his face out there. He reached out to Michael Eisner, the former CEO of Walt Disney, who has season tickets next to Donald's wife, Shelly Sterling. He called Cuban and Paul Allen, the Microsoft co-founder and owner of the Portland Trail Blazers, for advice. Cuban figured that Ballmer's bombastic style would "be no big deal" in today's NBA. "But it would have been hysterical to watch the old-school owners react to him 25 years ago," he says.
Ballmer has been linked to the NBA for several years. He was a part of Chris Hansen's Seattle-based investor group that attempted to buy the Sacramento Kings from the Maloof family in 2013. In the past, his efforts to buy an NBA team have been centered around efforts to return professional basketball to Seattle, but Ballmer does not plan to move the Clippers from Los Angeles.
The story also detailed Ballmer's hands-on management style, although Clippers head coach and president Doc Rivers said he isn't worried about Ballmer being too meddlesome an owner:
If there was one plus to Sterling as an owner, it was that he wasn't a George Steinbrenner-type micromanager. He didn't pretend to know more about the sport than his executives did or try to meddle with their deals. Ballmer's hands-on style can be as overpowering as his rhetoric; this is a man who has compared rival products to cancer and often yelled his critics into submission. Whether he has the patience to let Rivers and the coaching staff do their jobs won't really be apparent until he has been through a draft or two and becomes emotionally invested in players. "The one issue you don't worry about is the ownership," Rivers says. "We've ended up with cachet and cash. And I think Steve's going to allow me to do my job. It's the only way it's going to work."
Only time will tell how Ballmer fares as an NBA owner, but he has a huge head start in terms of good will. The Clippers organization and fans have suffered through three decades of Sterling. All Ballmer has to do to be considered a success following Sterling is be willing to spend money and not imply that he doesn't want black people coming to games. He should be up to the job.